Wotofo Serpent Box Mod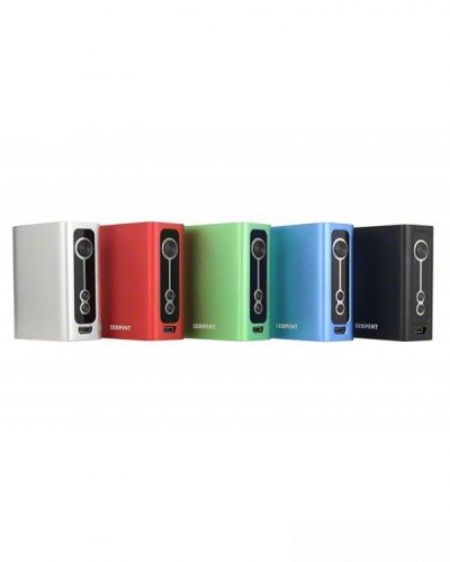 The Serpent Mini RTA is probably one of our most loved atomizers from 2016. Considering it's small form factor device this can make a nice and stealthy combo on top of a tiny mod. And since these are the final days of December, we decided to go with the mod that's just perfect for holiday vacations. It's called the Wotofo Serpent Box Mod and it's clearly intended to make a great pair with the Serpent Mini RTA, the Goblin Mini or the Nautilus X.
Measuring only 54.5 x 43.5 x 28.5mm you can totally hide this small vape mod in your hand but at the same time it's able to deliver quite a strong punch. We absolutely love how it looks with the Serpent Mini on top and 50W is more than enough to power up the versatile atty.
The Wotofo Serpent Box Mod comes packed in a white cardboard gift box and inside you will find the device itself, a detailed user manual and a micro-USB charging cable. It is available in blue, green, stainless, black, and red and it's a variable wattage mod that also does temperature control. The mod is powered by an internal 2000 mAh LiPo battery that takes around 2h and 15 minutes to get fully charged when using a 1A wall adapter. This makes the device lightweight, portable and able to deliver at least 6h of vaping time when used at half the power.
On the top side of the Wotofo Serpent Box Mod we have a spring loaded 510 connector and a crisp display, while on the main side we can see the fire button, the adjustment buttons and the micro-USB slot. The main idea behind this mod is to make it user friendly and Wotofo did a great job. Only three buttons and two button combinations in order to use all of the features.
The mod goes from 7W-50W in power mode and from 200-600F in temperature control mode. It has settings for Nickel, Titanium and Stainless Steel as well as a TCR option to use it with other materials. It can fire down to 0.1 Ohms and also comes with a variety of protections and safety features. The outer shell is made from Aluminum alloy and the whole device weighs little under 135g.
You turn the device on or off by hitting the power button five consecutive times and hold the power button and the up/down button to change modes or to flip the screen. It will look nice with atomizers up to 23mm in diameter but anything bigger than that will start to have some overhang. 24mm is the maximum tolerable limit for us.
TIP: These mods are truly amazing in performance and size. We listed the best mini box mods here
In terms of performance the Wotofo Serpent Box Mod does its job like a winner and we didn't encounter any sort of problems with it. It's great for small form factor atomizers and if you pair it with a mouth to lung tank like the Nautilus X you're definitely looking at a whole day of vaping. However, when you use it at the maximum power output of 50W the battery will drain in less than two hours.
RELATED REVIEWS: