A quick look at some of the most popular e-liquid lines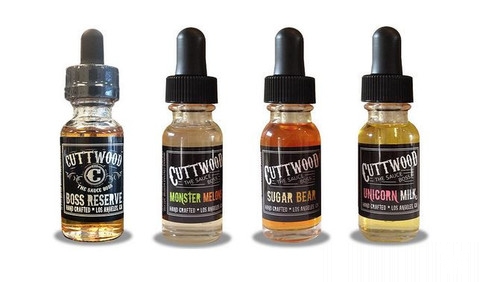 Besides a good mod, a great e-liquid is probably the most important aspect of a great vaping experience and finding a flavor that works for you is much easier today than it was a couple of years ago. This is because we have dozens if not hundreds of manufacturers and due to the fierce competition the quality keeps on getting better and better. From dedicated brands to handmade manufacturers, everyone fights for supremacy in an ever expanding market.
Today we are going to take a look at some of the most popular e-liquid lines out there and let you know which one flavors are some of our favorites. We start our journey with Cosmic Fog e-liquids, an American company that boasts six flavors, many of which from the sweet / dessert category. Creating each one of the flavors took approximately 7 to 10 months and they all come packed in glass bottles with dropper caps and very nice labels. Cosmic Fog's e-liquids include The Shocker, Cola Gummy, Church, Milk + Honey, Nutz, Kryptonite, and Euphoria. They come in 50/50 or 60/40 VG to PG ratios and five nicotine concentrations from 0mg up to 18mg. Our favorites from the lineup are Milk + Honey and Church.
Another e-liquid line created by Cosmic Fog but intended for the most refined tasted buds is the Lost Fog Collection, an array of 3 juices that have been inspired by the fusion cuisine. These are rated as above premium e-liquids and come in matte black bottles fitted with dropper caps. The flavors include Neon Crème, Baie Crème, and Streek, with Streek being our personal favorite. It's a perfectly balanced mix of Greek style yogurt (but without the characteristic bitter aftertaste) and freshly picked strawberries.
Space Jam are another company worth checking out when looking for great e-liquids and they also sell seven uniquely crafted flavors, many of which being from the fruity / sweet category. The names include Andromeda, Astro, Eclipse, Omega, Pluto, Galactica, and Solstice, and they come in 30ml glass bottles fitted with droppers and in five different nicotine concentrations ranging from 0mg up to 18mg. Our favorite from the line is clearly Astro, a lovely mix of peach, strawberry and apple that taste like the most refined fruit salad ever.
Vaporfi is another company renowned for their e-liquids, and recently they have released a brand new line called the Grand Reserve. These juices come in transparent dark brown 30ml glass bottles fitted with droppers and are available in a total of six nicotine levels ranging from 0mg all the way up to 18mg. The collection includes six different mixes and they are called Catch Ya Latte, Cloud Candy , Island Frost , Rainbow Custard, Pineapple Pow, and Meringue O Tang. It's hard to pick a favorite from the Vaporfi Grand Reserve line but we have to stick with Catch Ya Latte, one of the best coffee flavors out there that we've tasted so far.
Another very 'en vogue' e-juice line at the moment is Suicide Bunny, which includes five exclusive flavors called Sucked Punch, The O.B., Madrina, Derailed, and Mother's Milk. These come in 30 ml or 120 ml glass bottles with droppers and the all the labels have interesting characters with tattoos engraved on them. All the flavors come in six different nicotine levels and out favorite from the line is, as you might have expected, Mother's Milk – one of the most complex and delicious strawberry custards out there.
Cutwood is another American e-liquid manufacturer that became increasingly popular in the last few months with some delicious flavors. Handcrafted in California, the company's ejuice lines includes five distinct flavors called Bird Brains, Boss Reserve, Mega Melons, Sugar Drizzle and Unicorn Milk. The mixes come in 30ml glass bottles with droppers and they are available in six different nicotine concentrations. Our favorite from the line is clearly Boss Reserve, one of the best honey cereal juices we've tried so far.
Last but not least we have Coval Vapes, a premium artisan e-liquid manufacturer from Texas, USA. The juices come in 30 and 120ml bottles fitted with dropper caps and transparent labels. The juices are quite thick and there are five different nicotine concentrations to choose from. Their flavors include dessert as well as a few tobacco flavors and we've tested Churro, Crème Brulee, Berry Crunch, Chocolate Donut (our favorite), Butterscotch Pudding, and Azeroth.
RELATED REVIEWS: