Aspire premium starter kit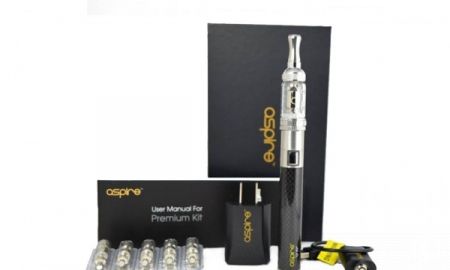 There are people out there who prefer buying their mods, tanks and batteries separately so they can experiment with different setups and even build their own coils, while others just prefer buying a single starter kit and using it every day in order to stay away from those pesky tobacco cigarettes. This is why today we are going to look at one of the best options for a starter kit that comes packed with everything you need for a satisfying vaping experience. The guys from Aspire are generally known for their Nautilus and Atlantis tank series, but in recent months they have started experimenting with their own variable voltage or sub ohm batteries and enjoyed a massive boost in sales.
The Aspire Premium Starter Kit is a great alternative for having a backup to your more powerful mod or to take with you on trips and holidays. It's also a great option for a present to one of your smoker friends that really wants to quit. It's very easy to assemble and all you need to get it going is a bottle of e-liquid. But let's take a closer look at what's inside the box.
So the premium starter kit comes inside this nice black cardboard box with the 'Aspire' logo on the front, and inside you will find the Aspire carbon fiber CF VV+ 1,000 mAh battery with the Nautilus Mini mounted on top, and eGo style USB charging cable, a wall adapter, a manual, and a blister of 5 x 1.8 ohm Aspire BVC replacements.
So, taking it apart, let's start with the Aspire CF VV+, this variable voltage battery that packs a lot of power. It has a diameter of around 17.5mm, a length of 110mm, and a total capacity of 1,000 mAh. It is fitted with a big rectangular shaped firing button that's surrounded by an LED notification light. Each time you press on the button the LED will light up and even warn you by turning orange once the battery starts to require recharging. The user has the option of adjusting the voltage from 3.3 to 4.8 Volts, via a dial located at the bottom. It is very easy to operate, recharge and it comes with a great variety of safety features that include overcharge and over discharge protection.
The Nautilus Mini will ensure a perfect fit on the CF battery and this tank is a true legend inside the vaping community. Little brother to the famous Nautilus, it has borrowed many of its unique features like the four port airflow adjustment mechanism, Pyrex glass walls and replaceable BVC coils. The Mini is very easy to refill and use and changing the coil head once it's depleted is a piece of cake. It can hold up to 2ml of e-liquid and that's more than enough for any vaping beginner experimenting with vaporizers.
The combination of variable voltage on the CF battery with the revolutionary airflow mechanism on the Mini make the Aspire Premium Starter Kit extremely versatile and a great option for people switching from tobacco to find their sweet spot in no time. There are four airflow settings on the Nautilus and in order to select any of them you simply have to twist the outer collar until you hear a clicking sound. This is great because it can suit any style of vaping from mouth to lung to full lung hits. The variable voltage on the battery lets you go through various settings while turning the dial at the bottom and the bigger the value the more clouds this baby will produce.
To recharge the battery once it glows orange 15 times you need to take of the Nautilus mini, screw the cable onto the connector and plug it in your computer or wall charger. Depending on the amperage, it can take anywhere from around two hours to about three and a half to get the battery fully charged. For best results we recommend using the wall charger provided in the Aspire Premium Starter Kit.
To refill the Nautilus Mini with e-liquid you need to turn it upside down, unscrew the base, pour in the e-liquid until the maximum mark and then screw the base back on while still holding the tank upside down.
Everything can be done with little effort and we are sure this kit is going to help so many new vapers stay away from traditional cigarettes.
RELATED REVIEWS: