BLOOG 650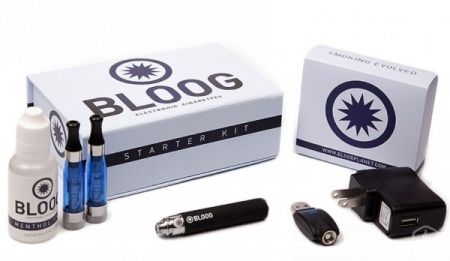 If you are no stranger to e-cigarettes I'm sure that you've seen or heard the discussions around the e-cigarette brand called Bloog. This is a company that appeared on the market in 2008 and has amazed everyone with their incredible products. I mean, they offer a variety of products that include from starter kits to cartomizers, clearomizers, juices and a long list of accessories.
However, choosing the best e-cig they offer without trying it is rather difficult that is why, I'm going to offer you my honest opinion on their electronic cigarette as an experienced e-cig user. Their basic kit sells for $39.99, but as you would expect it doesn't offer much, but only a regular e-cig and minimal accessories to make your experience easier. If you want a premium product I recommend you try the 650 Kit, which is available at $69.95 and is indeed superior to their other products. This might seem a bit expensive- 20 dollars more than the Mobile Kit- especially if this is your first time trying their electronic cigarettes, but I can assure you that it is definitely worth it.
Bloog 650 kit kit consists of one rechargeable battery, two rechargeable clearomizers (1.6 ml), a bottle of Bloog Liquid Fusion Juice in any flavor you desire, as well as a USB and a wall charger. It comes in a small white case, in which the contents are arranged in two layers. Very classy and elegant, the case is the first step towards really falling in love with the 650 Kit from Bloog. This e-cigarette competes with the higher-end models that are available on the market at the moment, but is available at a lower price. The battery is larger than you would expect and will last up to 5 hours of heavy vaping. In addition, charging it is very simple and is easy to see when it is fully charged and ready to use as it has five little lights that blink when the e-cig is charging.
The 650 e-cig produces thick vapor that you only see in larger atomizers and makes the flavors taste more intense and richer. This is a premium product that deserves every penny. It will completely change the way you vape and thanks to its sleek design you will get a lot of compliments. With so many interesting features, the 650 Kit from Bloog deserves your attention as it will improve your vaping habit and show you how a premium electronic cigarette should behave.
RELATED REVIEWS: