A comparison between two e-cigarette giants – V2Cigs and GreenSmoke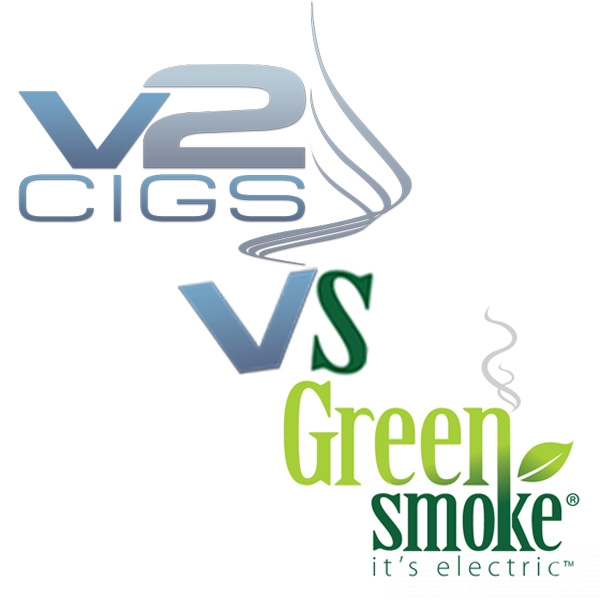 Electronic cigarettes have gone a long way in these last few years, and now they are the day-to-day companions of millions of ex-smokers worldwide. They are battery powered devices that use a heating element called to transform a nicotine based e-liquid into thick clouds of delicious vapor. Many brands are specialized in cig-a-likes, which are e-cigarettes that are designed to mimic their tobacco counterparts to the last detail. Most of them have the same size as a real cigarette and they even come with the glowing LED tip that lights up each time the user takes a puff. They are considered a healthier alternative to tobacco smoking since they deliver the same nicotine fix but without the perils of smoke, ash and tar.
If you are looking to make the switch, then you've probably noticed that there are a lot of companies with good online reviews and out of them we do a e-cigarette comparison.
V2 Cigs is one of the key players in the ecigarette industry and it has been around since 2009. It has quickly become one of the most popular brands on the market due to the quality and simplicity of its products. All their products are designed by V2 Cigs engineers in California and Florida and are assembled in certified plants using only parts from verified and approved suppliers.
The other brand, Green Smoke, is one of the largest e-cigarette companies online, and they managed to keep their reputation over the years by selling high quality products and treating their clients with respect. 30 day money back policy, free shipping with no minimum order size and hassle free lifetime limited guarantee are just some of the things that make GreenSmoke one of the most appreciated brands on the market.
While in essence, these two companies are specialized in selling cig-a-likes, there are a few differences between them that are worth noticed. V2 has 6 options for starter kits, 10 flavors and a wide range of batteries and accessories. V2 Cigs also sells disposable ecigarettes either in single packs or batches. GreenSmoke offers five starter kits and eight flavors with five nicotine levels but they have discontinued their line of disposables.
V2 batteries come in four varieties: Shorty (100mm, 150mAh that will provide approx. 160 puffs), Standard (110mm, 250mAh that will provide approx. 200 puffs), Long (140mm, 380mAh that will provide approx. 300 puffs) and the EX Series (135mm, brushed steel that will provide approx. 300 puffs)
GreenSmoke batteries come in two varieties: Short (100mm, 160mAh that will provide approx. 200 puffs) and Long (116mm, 270mAh that will provide approx. 300 puffs).
V2 offers some amazing flavors and there is a variety of 10 to choose from. Red, Sahara, Congress, Menthol, Peppermint, Mint Tea, Cherry, Chocolate, Coffee and Vanilla are their renowned eliquids and you can buy them in prefilled cartridges or bottles of 25ml and 50ml. You can also buy blank cartridges that are refillable up to 5 times or EX Blanks that are refillable up to 20 times. All their flavors come in 5 levels of nicotine strengths (0%, 0.6%, 1.2%, 1.8% and 2.4%).
GreenSmoke offers some really amazing flavors for their cartridges and there is a variety of 8 to choose from: Absolute Tobacco, Red Label Tobacco, Tobacco Gold, Menthol Ice, Mountain Clove, Mocha Mist, Vanilla Dreams and Smooth Chocolate. These cartomizers come in 5-pack boxes and you also have the option of buying a variety pack. All their flavors come in 5 levels of nicotine strengths (0%, 0.6%, 1.2%, 1.8% and 2.4%).
All in all, no matter which of the above you choose, you'll be more than satisfied with your purchase because these two companies are renowned for the quality of their products and customer care service.
RELATED REVIEWS: