Dual vapers VS full-time vapers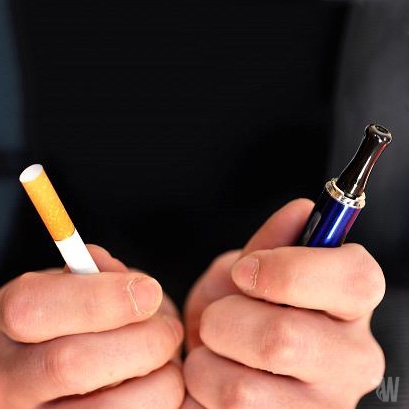 Electronic cigarettes have gained a lot of popularity in the recent years and in some cases, they have even taken by surprise the tobacco industry. Rather than filling up their users' lungs with smoke and tar, e-cigarettes are devices that heat up a nicotine based e-liquid and deliver lush clouds of heavenly tasting vapor. While the health effects of these devices are still unknown on the long run, most experts and doctors agree that they offer a far better alternative over their tobacco counterparts.
The alleged effect of e-cigarettes is to make smokers gradually reduce their analogs and make the full switch to these revolutionary devices. However, ecigs don't work for all people, some of them managing to kick the habit entirely while others puff on both e-liquid and combustible tobacco at the same time. The difference between the two types of behaviors (quitting and simply transitioning to dual use) has become a priority for some scientists looking to find an answer.
A new study published in the 'International Journal of Environmental Research and Public Health' by Dr. Konstantinos Farsalinos and his team, takes a thorough look at this particular issue, comparing data given by around 19,000 e-puffers and dual users. The survey analyzed the general proprieties, patterns of use, the side effects and positive effects noticed by vapers. The batch was largely composed of 'dedicated' vapers, forum members and those active within the online community, and despite the fact that these findings possibly do not apply to the general population, it offers a good insight into what appears to make a 'successful' vaper.
Here is a quick summary on this study:
They survey was taken by 19,441 users, mostly from Europe and America.
Their commitment to vaping is believed to be the main cause for the increasing rate of kicking the habit in the group, with 81 percent having quit smoking entirely.
Most found out about the survey through the online forums, and 'mods' were the most wide-spread devices used by the attendants, with ego style vaporizers raking second place.
Dual users gradually decreased their day-to-day tobacco consumption from the regular 20 to about 4 analogs per day.
Out of the entire batch, only 88 were non-smokers at the time they started vaping, and just over half of them used non-nicotine liquids.
58% of users experienced some sort of after effect due to vaping, with the most common being dry or sore mouth or throat, coughing and gum problems, and over 90 percent of problems either partially or completely cleared up in a few days.
The study revealed that most vapers are smokers or ex-smokers, and that most of the 'dual users' gradually reduce their tobacco consumption. Most vapers consume nicotine (unless they were one of the very rare non-smoking vapers), and more appear to quit if they start on over 20 mg of nicotine based e-liquid (a concentration soon to be outlawed in Europe).
RELATED REVIEWS: