E-cigarettes influence tobacco bonds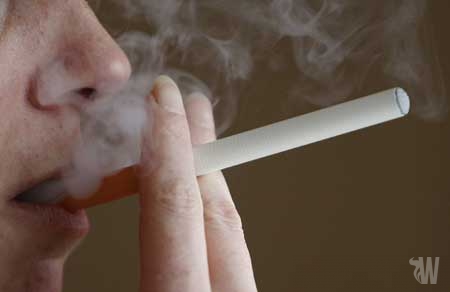 The massive increase of e-cigarette sales can be regarded as a big still unevaluated risk of depreciation for tobacco bonds owners as almost $96 billion are connected to payments from big tobacco companies following the settlement from '98.
The Tobacco Master Settlement Agreement (MSA) was filed in November 1998, originally between the four largest United States tobacco companies (Philip Morris Inc., R. J. Reynolds, Brown & Williamson and Lorillard – the original participating manufacturers) and the attorneys general of 46 states. The states settled their Medicaid actions against the Big Tobacco companies for recovery of their health care related costs with respect to cigarettes, and absolved the companies from most of the damage inflicted by their products. In return, Big Tobacco agreed to to stop certain unacceptable marketing practices, as well as to pay, in perpetuity, a variety of annual payments to the states to refund them for some of the medical expenses of caring for persons with tobacco-related diseases.
In the ten years following the settlement, many state and local governments have opted to sell so-called tobacco bonds. In many cases the bonds permit state and local governments to transfer the risk of declines in future master settlement agreement payments to bondholders.
Many analysts already forecasted that these tobacco bonds would start defaulting during the next ten years. That is because peoples have kicked their tobacco habits at an increased pace then previously estimated with the majority of bonds being sold in the previous ten years. Cigarette use has decreased annually with around 3.4 percent starting 2000 while many bonds were financially engineered to cope with consumption decreases of only 2-3%.
'If the decline goes to 6 or 7 percent, it will be very quick,' said Tom Metzold, portfolio manager at Eaton Vance Investment Managers in an interview for Reuters. 'I think that the first ones are probably five years away,' he said in reference to defaults.
Although they represent a small percentage of the cigarette market, sales of e-cigs and vaporizers have skyrocketed to an industry worth $2.2 billion from almost zero a few years in the past. By some predictions, the trend is still climbing with a clientele formed out of half the current number of smokers in the following decade.
'We believe consumption of e-vapor will eclipse consumption of combustible cigs over the next decade as technology improves,' wrote Bonnie Herzog, analyst at Wells Fargo, who has tracked the tobacco industry for years, in a recent report.
Wells Fargo Securities estimates that the rhythm at which users switch from tobacco cigarettes to ecig alternatives will dramatically increase in the coming years. It believes that sales volumes for tobacco analogs in the U.S. will decline by almost 70% over the next decade, while vapor cigarette sales increase by almost 13 times.
Still, not everyone is convinced about the boom of electronic cigarettes and the possibility of early default on the tobacco bonds.
RELATED REVIEWS: