Eleaf iJust Start Kit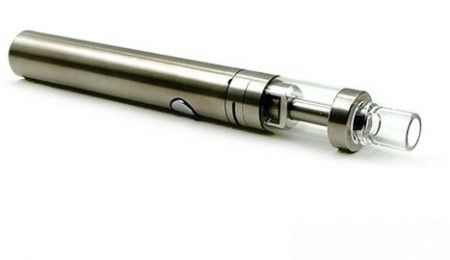 If you're looking for a very affordable and moderately potent starter kit to help you stay away from those pesky cigarettes, then we have something that might appeal to both your vaping necessities and budget. Eleaf, the makers of the iStick and the original iJust series have just released two brand new starter kits on the market and they are very well priced.
Today we are going to take a closer look at the iJust Start Kit, an ego style device that comes in a variety of colors (rose gold, silver, white, black, and red) and it's very easy to use as it's operated via a single button. The kit comes packed in a white and green cardboard box and inside you'll find the battery, the tank, two 0.75 Ohm coils, a micro-USB charging cable, a user's manual and a silicone ring for the airflow adjustment.
To be honest, we're not big fans of the silicone adjustment ring but without it the airflow is pretty loose for somebody who's only used to regular cigarettes. On the other hand the 0.75 Ohm coils are quite versatile and they do deliver good vapor and nice flavor. You can also use regular 1.5 Ohm GS Air heads with this setup as well as the 1.2 Ohm pure cotton heads.
The iJust Start Kit measures 16.5mm in diameter (so it's pretty slim) and has a total height of 140mm with the tank on. It's powered by an internal 1,300mAh battery and it has a 510 connector at the top. The battery is however unregulated, meaning that it will act exactly like a mechanical mod – as the voltage begins to drop you'll also notice a drop in vapor production. It can fire as low as 0.4 Ohms and as high as 3.5 Ohms.
The tank has a total capacity of 2.3ml of e-liquid and it's filled from the bottom. Swapping resistances is done with great ease and adjusting the airflow is done by mounting and twisting the provided silicone ring. It can also act as a vape band in case you drop your device, but we don't think it can protect the top part of the tank (like a regular vape band).
It takes around 3h to fully charge the battery with the provided USB cable and once it reaches 100% it should provide a decent autonomy. We managed to get anywhere from 3h to 6h out of it (depending on the vaping style) but we're sure it can do a lot better with the 1.5 Ohm coil or with the 1.2 Ohm coil. With the 0.75 Ohm coils vapor production is good but the draw is a bit to airy for that authentic mouth to lung experience. You can also do some restrictive direct lung hits with it but I don't think it was built for this style of vaping.
Flavor is not one of the best out there, but the kit does the job nicely and the coils wick properly. It's a very good budget starter kit and it's highly portable. The simplistic design make it a great tool for any type of vaping beginner and the performance is decent. If you're looking for better battery life, a nice direct lung experience and bigger thank then the 19mm Start Plus might be a much better option.
RELATED REVIEWS: