High drain batteries and sub-ohming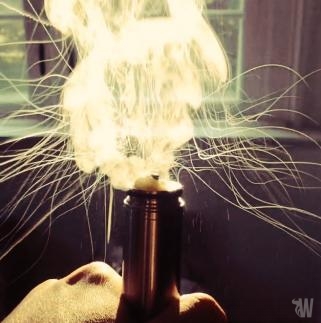 We bet you've probably heard a lot about sub-ohm vaping or cloud chasing and always wondered how those amateur or professional reviewers managed to blow out such impressive clouds in their Youtube videos. The idea behind it is very simple and it involves a high drain battery, a powerful vaporizer or mechanical mod and usually a sub-ohm coil build. Let's talk a bit about this incredible part of vaping that's called sub-ohming and find out more.
As the name suggests it, sub-ohming refers to vaping on a device with an atomizer resistance below the 1-ohm limit. In order to get to this part you need to acquire some understanding about electrical engineering and basic circuitry knowledge because sub-ohm vaping can be even more dangerous than it is fun. To be able to experiment this safely you need to understand some basic facts about electricity and Ohm's Laws and acquire some decent coil building skills.
The first thing you need to understand is that not all devices on the market are compatible with sub-ohming, especially in the case of some older advanced personal vaporizers that come with fuses. They don't allow the use of resistances below the 1 Ohm limit because of overheating and safety concerns. However, when it comes to mechanical mods, you should know that even on cheap devices you can still benefit from sub-ohming especially if you use a Rebuildable Dripping Atomizer. But rebuildables aren't the only way to experience the vaping thrills of going below 1 Ohm, because some clearomizer / tank manufacturers like Kanger and Aspire already sell sub-ohm replaceable atomizer heads for their units. Pair this with a good adjustable airflow system and you'll end up puffing on some tremendous clouds.
Ohm's Law state that by knowing two elements of the circuit you can quickly compute the third one. So, because P = V x I and I = V / R, in order to know the power required to vape on a certain atomize resistance you will need to check the voltage of the battery and measure the amount of ohms in the coil.
This is why it's imperative to always have an ohm-meter with you each time you're building a new coil, even if you've done it numerous times before. Ohmmeters come in various shapes and sizes, from big multi meters to 510 threaded models designed specifically for the e-cigarette industry. Some advanced vaporizers even have a built in feature that lets you read the resistance of the atomizer prior to pressing the firing button.
But not all batteries are intended for sub-ohming, mostly because it's generally taking them to the edge of their performance. The most important feature you need to focus your attention on is the continuous discharge rate. A regular 18650 battery rated at 10A is probably enough for going to resistances of around 0.7-0.8Ohms but for achieving 0.2-0.4 resistances a 30A model is definitely recommended, like the Sony VTC5.
RELATED REVIEWS: