Innokin Endura T18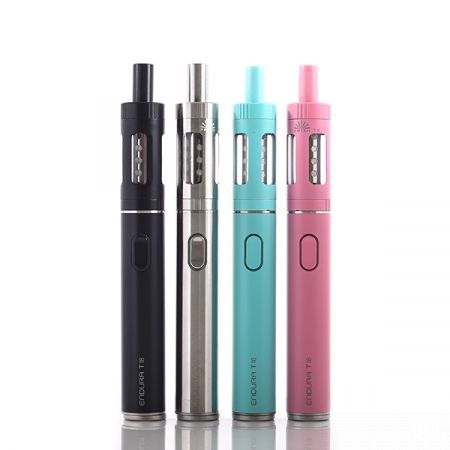 To us vaping is more than a hobby, it's a way of life and we often get very excited when come across a device that has been specifically designed to help smokers make the transitions to e-cigarettes. Today we have a brand new starter kit from Innokin called the Endura T18 and it's basically an eGo vape pen but with a twist. This ecig has been engineered to perfectly match the experience of smoking to the last detail, from the tightness of the draw to the drip tip that's roughly the same diameter as an analog cigarette.
We often hear from our readers that they want to put those nasty smokes on the side, but they simply can't decide on a specific e-cigarette model or they bought a very expensive mod and it's not a satisfying experience for them. Well, from now on you can rest assured, because the people at Innokin came up with this revolutionary idea for a new type of starter kit that's going to deliver one of the best e-smoking experiences for any beginner.
The Endura T18 has a very simple design, with the same firing button also turning the device on or off. The button is almost flush to the battery and the it also comes with a notification light that changes color from green to yellow and red as the voltage starts to drop. It comes packed in a very nice magnetic cover gift box and as you open it you'll notice a great looking infograph on the inner side, which shows detailed information on the components, refilling and recharging. For us this is a big thumbs up and it comes to show how Innokin likes to get involved when it comes to the vaping beginner.
Inside the box you will find the Endura battery, the Prism tank with a coil already mounted inside, a charging cable, a spare coil, a stand and a bag of extra seals for the tank (in case they get damaged or lost). The coils look very different from what we were used to seeing inside a starter kit and they are some of the biggest out there. But despite their size they run at 1.5 Ohms, which to us is just perfect for that similar-to-smoking experience.
The battery is rated at 1000mAh and it doesn't have any voltage or wattage adjustment options. It has two channels on the 510 connector for airflow, the firing button on the middle and the micro-USB port for charging is located on base (covered by a sliding cap).
The tank can hold up to 2.5ml of e-liquid and it's a top filling model. This makes it very easy to assemble and use and because of the tight draw it's clearly intended for mouth to lung vapers (this is where you first draw the vapor in your mouth and inhale it in your lungs afterwards – just like on a tobacco cigarette). So, if you're used to the new sub-ohm tanks and direct lung vaping, then probably this product is not for you; however if you're just making the transition from analogs or you know somebody who would like to give ecigs a chance, then this might just be one of the best kits out there to serve this purpose.
To replace the coil you need to unscrew the base of the clearomizer and it comes right off. You will also notice numerous juice holes on these coils, and this is because the Endura T18 was designed to wick regardless of the way you keep your device – whether it's in bed, at home or at work. You simply fill the tank with e-liquid, leave it 5 minutes and you're ready to vape. Also the provided stand is great for storing the ecig on your desk or near your bed and it's a very nice bonus.
The experience on the Endura T18 is very, very similar to the one on an actual cigarette in terms of draw, vapor production and throat hit. Don't expect it to deliver massive clouds because it's not intended to do so, however we're positive it will help countless new vapers stay away from tobacco and that's what vaping is all about.
RELATED REVIEWS: