Joyetech Atopack Penguin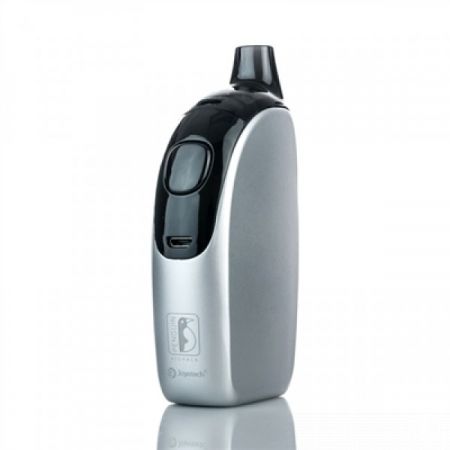 There are a lot of starter kits out there for beginners but the Joyetech Atopack Penguin is a bit different and definitely worth checking out. This all in one vape works with refillable pods and has two different types of atomizers. Despite its affordable price it doesn't have that cheap vibe and vapor production is quite surprising.
What's in the box
The Joyetech Atopack Penguin comes packed in a black and white presentation box with a nice logo on top. Inside you will find the AIO itself, a 0.6 Ohm coil for mouth to lung, a 0.25 Ohm coil for direct lung, a USB cable, spare parts and the user manual.
Design and features
This device works with a cartridge system, vape pod, that has the coil connected at the base. The cartridge is refillable so you can use any e-liquid you like and the two different types of atomizer heads make the mod score high on versatility. It measures 26.5mm x 52.0mm x 102.5mm and weighs little under 140g so it's very easy to carry and lightweight. The Joyetech Atopack Penguin has an indent on the back to help remove the cartridge and the fire button as well as the charging port on the front.
The majority of pod vaporizers have an automatic battery that delivers power to the coil each time you inhale. This is great for the most part, except for the small delay until the chip gets activated. With the Penguin you're in full control of your vaping experience since it will fire as soon as you press the button. This really makes the tiny mod stand out from other competitors.
The thing we particularly enjoy about this device is that it's very well balanced. We have a generous 2000mAh battery built inside the body and a 8.8ml e-juice reservoir that should have you covered for the whole day. It also features fast 2A charging which means it's going to get to 100% in less than two hours. Maximum power output is 50W and that's more than enough even for the 0.25 Ohm atomizer. The The Joyetech Atopack Penguin also has a 5-LED battery indicator right under the fire button and this way you always know when it's time to recharge.
The only small con we found with it is that airflow intake in non adjustable. However, this didn't seem to be a problem neither with the 0.6 Ohm MTL coil nor with the 0.25 Ohm LI coil. Once you get used to it, you'll be surprised with the vapor performance and flavor on this bad boy.
Performance
The The Joyetech Atopack Penguin is a great AIO for beginners. It has two different types of coils for different styles of vaping and considering its price it's definitely a best buy. Flavor is slightly muted on more complex juices but that's something we expected from these coils. Vapor production on the other hand is phenomenal from such a tiny device and battery life is a big pro.
RELATED REVIEWS: