Phix ecig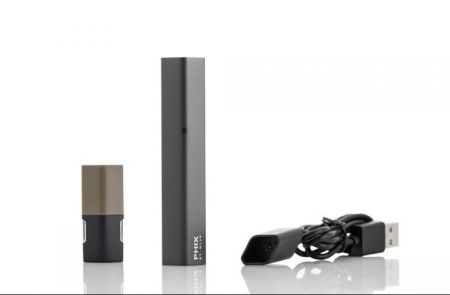 Designed by actual vapers, the Phix ecig is an excellent tool for beginners and intermediate users looking for something ultra portable and efficient. Major League Vapers the designers of the device have teamed up with Brewell Vapory, the famous e-liquid manufacturer for some of the best pod mods. Flavor you get off these is phenomenal and vapor production is also above average.
Often called the JUUL killer, this tiny closed system vaporizer offers a wider range of flavors and it's powered by an internal battery rated at 280mAh. You can get as many as 220 puffs per charge, however that greatly depends on your inhale style. We didn't do an actual count, but based on our estimations we managed to get around 150 long puffs before recharging the device.
What you get in the box
The Phix ecig comes in a small rectangular package sealed with plastic wrap. Inside you will find the battery, an USB charger and a tobacco flavored pod. The device has a diamond cross section and it's easy to hold. It feels very natural in the hand and offers a lot more grip than its competitors. General features
The charger is proprietary and it has magnetic connectors which make the device snap into place. It takes around 30 minutes to fully charge the ecig, however you cannot use it while the cable is connected. A quick workaround would be to disconnect it from the charger, take a few puffs and then putting it back on. In day to day use we managed to get around 4h of moderate use but depending on the style of vaping it could deliver even more.
The Phix pods
The pods use a nicotine salts e-liquid with a nicotine concentration of 50mg. Despite this, the throat hit is super smooth and flavors are just spot on. Spearmint is our favorite but you can also get strawberry, butterscotch, or tobacco ice. A 4-pack of pods goes for around $23 but they last longer than any other product in this category. With a capacity of 1.5ml we managed to get two full days during our tests.
Performance
When it comes to performance, the Phix ecig is one of the best devices of this kind out there. Flavor is smooth and delicious, battery life rocks and it's so easy to use. The notification LED lights up each time you take a puff and it takes just 30 minutes to recharge. It's the type of device that fits in any pocket or purse and the build quality is great.
RELATED REVIEWS: