VaporFI Vaio Mini AIO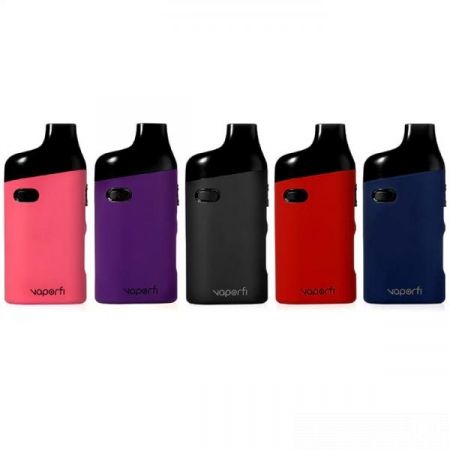 If you're a fan of tiny low output vaporizers you will love the VaporFI Vaio Mini AIO. This ultra portable starter kit includes seven atomizer heads and a 30ml bottle of e-liquid. Comes in a wide range of vibrant colors and it's the ideal thing to have if you enjoy nicotine salts.
What you get in the box
The VaporFI Vaio Mini AIO is packed in a standard green and white cardboard box. Inside you will find the vaporizer itself, two 1.0 Ohm coils, micro-USB cable and the user manual. You also get five extra 1.0 Ohm coils and a bottle of e-liquid in your choice of nic concentration and VG/PG ratio. We recommend 12mg 50/50 for starters.
The VAIO design and features
The VaporFI Vaio Mini AIO is very small and can easily fit in the palm of your hand. The finish is rubberized and the colors are pretty insane. It's a great great pod mod starter kit for both men and women and it's really easy to use.
It has a single button and three LED lights which show remaining battery life. The mouthpiece is made from plastic and comes off easily. Under the mouthpiece there's the chimney section and the built-in tank. The device holds up 2.0ml of e-liquids and has a see-through window and a convenient fill port up front.
The VaporFI Vaio Mini AIO is powered by an internal 1000mAh battery. This is pretty decent considering the 1.0 Ohm coils and we managed to get over 6h of moderate use during our testes. The LEDs light up depending on how much battery life you have left. All four lights mean you're at 100%, three is 75%, two is 50% and one is 25%. By the time you reach 25% it's probably a good idea to plug it in. The whole process takes little over an hour.
This tiny AIO vape is intended for mouth to lung draws, but you can also direct lung vape it. The draw is a bit tighter and it will impact battery life, but it works. We recommend using nicotine salts e-liquids for the most satisfying experience with a maximum VG content of 60%. If you only use it in mouth to lung mode and take long breaks between puffs you can ultimately use even 70/30 juices.
Overall performance
Compared to some of the pod systems we tested, the VaporFI Vaio Mini AIO has better flavor and produces way more vapor. It's not a device intended for clouds but more for a stealthy and satisfying vape. It's easy to use, easy to refill and coils last for a pretty long time. Battery life is one of the best in this category and since it uses a standard micro-USB port you can always plug it in.
RELATED REVIEWS: