My. Von Erl ecig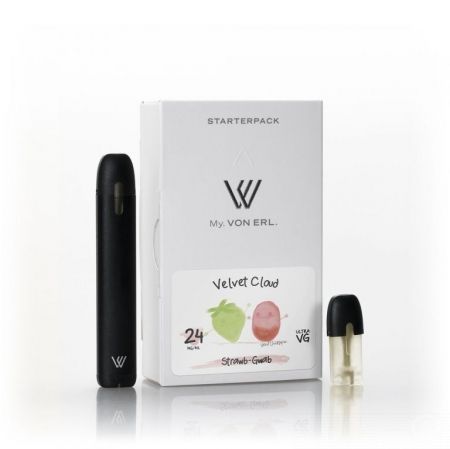 Small closed system vaporizers these days have gone a long way from the cig-a-likes we used to know a couple of years ago. The build quality on them is just outstanding and the technology allows for better than ever vapor and flavor. The My. Von Erl ecig comes from Austria and it's one of the most popular products in this trending pod vaporizer category. It uses non-refillable pods however some of the e-liquids inside come directly from high profile companies. You can get pods by Velvet Cloud, Cutwood, and Frisco Vapor and they also come in different nicotine concentrations.
Packaging – What's in the box?
The My. Von Erl ecig comes in a white cardboard box. Inside you will find the battery, a micro USB charging cable as well as a nicotine pod. The nicotine pod varies in flavor and nic concentration depending on the branding. The Velvet Cloud version comes with a 24mg Strawb Gwab pod.
Von Erl features
This low output vaporizer comes with a built in 350mAh battery, which is bigger than the one on the JUUL ecig. You can also recharge it with any micro-USB cable you might have lying around and that's also a big pro. You can expect around 5-6h of battery life from the My. Von Erl ecig and it takes under 45 minutes to fully recharge it.
The devices has an LED notification light at the base that glows in different colors depending on the remaining battery life. It goes from green when it's fully charged to white when it's halfway through to red when you need to plug it in.
The vape pods
The pods come in packs of two and they have protective sleeves over the contacts and mouthpiece. These slide in the slot quite easily and with the extended window you can always check out the level of e-liquid inside them. Once they become depleted you simply slide them out and replace them with a new pod. One pod should last around 2 days but it all depends on how long your puffs are.
Performance
Performance on the My. Von Erl ecig is pretty impressive. It delivers vapor like no other device in this category and the flavors are top notch. Especially the ones from Velvet Cloud and Cutwood which we absolutely love. There are a few nicotine levels to choose from so you can slowly transition towards 0mg if you want to. It charges very quickly, delivers great battery life and the draw is just perfect. Definitely one of the winners of the best ecig for beginners trophy.
RELATED REVIEWS: