Wismec MyJet ecig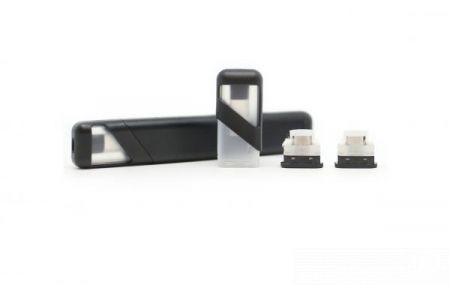 Pod style vaporizers don't necessarily need to be closed systems. The Wismec MyJet ecig is a great alternative for all those vapers who want to fill the pods with their own e-liquids. It's one of the cheapest devices in this category but in terms of performance it ranks right around the top 5.
Packaging
The Wismec MyJet ecig comes in a blister styled packaging and inside you will find the battery, the charger, the manual and two fillable pods. The pods are empty when you first get them and this is something worth stating. You will need to fill them up with e-liquid and this does require a bit of practice and skilled hands. Due to the fact that it's a low output vaporizer you will need to use higher nicotine concentrations than on regular mods and tanks. A good idea would be to go for nicotine salts e-liquids, which work great in pods.
General features
The device has a built in 350mAh battery and comes with its own proprietary charger. This is a USB cable with a magnetic slot at the other end where the Wismec MyJet ecig will snap into place. A notification LED light at the base will let you know when its full, and this usually takes around 45 minutes. The LED light also acts a battery life indicator and it will blink frequently when it's time to recharge.
The pods
Wisimec My Jet VapeThe pods have a total capacity of 1.2ml and to refill them you just need to remove all the seals and the bottom cap. Them simply use a dropper or a unicorn bottle to pour e-liquid while holding the pod at an angle. Be careful not to go over the central tube, as that will force e-liquid down the mouthpiece. Slide the cap back in, slide the pod in the MyJet and you're ready to vape. As a side note we recommend going for 50/50 or 60/40 blends, as anything higher than this is prone to getting dry hits.
Each pod lasts between 1 – 2 days and you can refill them up to 5 times, even more. You can buy replacement pods in packs of five for around $15. It does take some practice to refill them without minor spills but once you learn the process you won't have any issues. Some people have even posted tutorials on how to re-wick these things but honestly it's not worth the hassle since they are so tiny.
Performance
Performance wise the Wismec MyJet ecig delivers great flavor and a good amount of vapor. It's super portable, easy to use and intended mainly for beginners. Because you can fill up the pods with e-liquid it's cheaper on the long run as opposed to closed system vaporizers, but it all depends on personal preference. We surely recommend it as an alternative to ecigs with limited pod flavors.
RELATED REVIEWS: