Kate Moss spends lots of money on e cigs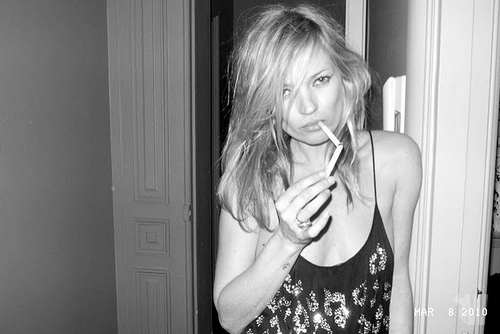 A holiday on the Spanish island Formentera didn't start really well for supermodel Kate Moss and her family. She forgot to pack her favorite brand of electronic cigarettes and panicked. Her brand is not available on the smallest island of the Balearic Islands so her driver was put on the first flight to Ibiza where they do sell Kate's favorite cigarettes.
The 39-year-old model has recently started smoking e cigs. She has been a tobacco smoking for a long time, but got worried about her health. Another aspect that worried Kate was her skin. "Kate has been a smoker for many years but recently she has got worried about wrinkles and other signs of aging. She has made a great effort to cut down and she has been doing well. But sometimes, especially on holiday, she craves them more and more," a source said to the Daily Mirror.
The action of Kate forgetting her favorite brand of electronic cigarettes did cost her a lot of money. First Kate tried to get her e-cigarettes at the little island, but with no results. After looking in various shops, she couldn't find her favorite e-cigarettes brand. "When she realized she had forgotten her e cigs, she tried to buy some but she couldn't find a recognizable brand", the source said.
Kate wanted to send her driver to Ibiza to get a package of e-cigarettes, but there were no cheap flights available. In the end she found a flight, but it cost more than 300 pounds to get a ticket. The hotel even cost Kate 1000 pounds for a night. But, she did get her cigarettes and didn't need to worry about graving for one while enjoying her holiday with her husband Jamie Hince and daughter Lila Grace.
Kate was introduced to these cigarettes by Simon Cowell.
RELATED REVIEWS: