The LavaTube 2.5 AVP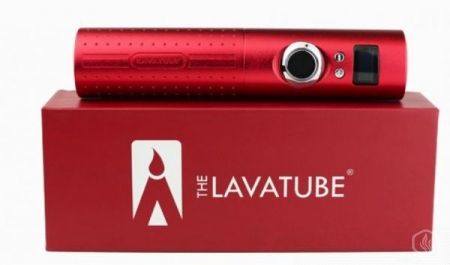 The LavaTube is the flagship ecigarette of Hawaiian brand Volcanoecigs and it has been around for quite some time, giving users the chance to fine tune their vaping experience and to experiment with different settings of their battery and atomizer.
The Lavatube v2.5 is a variable voltage (VV) and variable wattage (VW) ecig, with a selectable voltage range from 3 volts to 6 volts, and a selectable wattage range from 3 Watts to 15 Watts. It features an LCD screen, a lightweight aluminum body, an anodized aluminum finish, and is available in six different colors (blue, gold, gun metal gray, pink, red and black).
As opposed to version 2.0, the Lavatube 2.5 has some impressive new features that will make any vaper dance with excitement: capable of both variable voltage and wattage; can chose from average voltage output or RMS; built in memory to remember your settings
Besides the on/off button, it has two smaller buttons to control both your vaping voltage and your vaping wattage. One button increases voltage/wattage, and the other button decreases voltage/wattage. Voltage can be increased in 0.1 volt increments, and wattage can be increased in 0.5 watt increments.
When it comes to size, the LavaTube is a big personal vaporizer. It is one of the biggest on the market and it makes the ProVari look like its little brother, even with the extender cap on. But even though it is rather big in size, it is not a very heavy device. This is mostly because of the aluminum construction of the device. Yet, despite being made of aluminum, this version is incredibly solid. It has quite thick walls which provide rigidity at the cost of added size.
Just because the LavaTube is a little more complicated to get working than your regular twist-and-puff e-cigarette doesn't mean it requires a rocket scientist to operate. Instead of unscrewing from the bottom, the version 2.5 unscrews in the middle for battery replacement, and the unit can be refilled any time through a convenient drip-tip opening. It also accepts typical 510-sized replacement cartomizers.
Even though it's not marketed for beginners but rather for the most experienced of vapers that already know all the basics and want complete control over their device, the LavaTube delivers one of the best vaping experiences on the market. Thick clouds of vapor, excellent throat hit and impressive overall experience make this ecig one of the best in its price range and even though it's not exactly cheap you can browse the net for discount coupon codes and end up with a great deal.
Inside the kit you will find: the mod, a nice carrying case, high quality battery, smart charger, 3-ohm 7ml tank, free e-juice bottle
RELATED REVIEWS: