Liberty Flights launches anti-tobacco campaign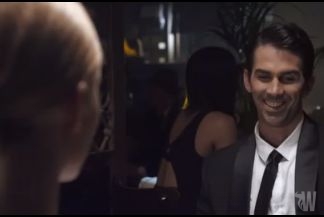 The e-cigarette market is getting bigger and bigger and brands need to promote their e-cigarettes more than ever. Electronic cigarette companies need to invest in their marketing position and reach their target group. In contrast to what some critics say most e-cigarette brand don't aim for young people, but for smokers of tobacco cigarettes. Liberty Flights electronic cigarettes started with a commercial which might start the war between tobacco and electronic cigarettes.
In the commercial you see a couple on a date, probably the first date because they're getting to know each other. The man is handsome, but seems to bore the girl. Once he tries to light his tobacco cigarette somebody tells him he's not allowed to smoke inside. He looks irritated, but walks outside to smoke leaving the girl alone at the dinner table.
Once the man is outside, a bold guy with an enormous beard walks in. He needs to appeal unattractive but all women stare at him. He sits down the dinner table with the girl and blows 'smoke' in her face. She looks amazed, but then he pulls out his electronic cigarette. It looks trendy and flashy and the girl loves it. She acts like she's turned on by the smoke from the e-cigarette and falls in love immediately. In the meanwhile her date sees what's happening and attempts to get back inside. All doors have been closed so he jumps through the window ending up next to the table with his face all bloody. The girl grasps the bald guy's hand and together they walk away leaving a cloud of smoke behind them.
The commercial needs to create awareness for the benefits of electronic cigarettes compared to tobacco. The producers wanted to show an alternative for smoker which is social and doesn't smell. "This is the first step into the Australian market. We wanted to create awareness in the marketplace that electronic cigarettes exist", Liberty Flights marketing director Simone Davis told Mumbrella.
We haven't reviewed Liberty Flights yet but after watching this creative spot we will have to!
RELATED REVIEWS: