The new Hybrid Vision Pro from 7's ecigs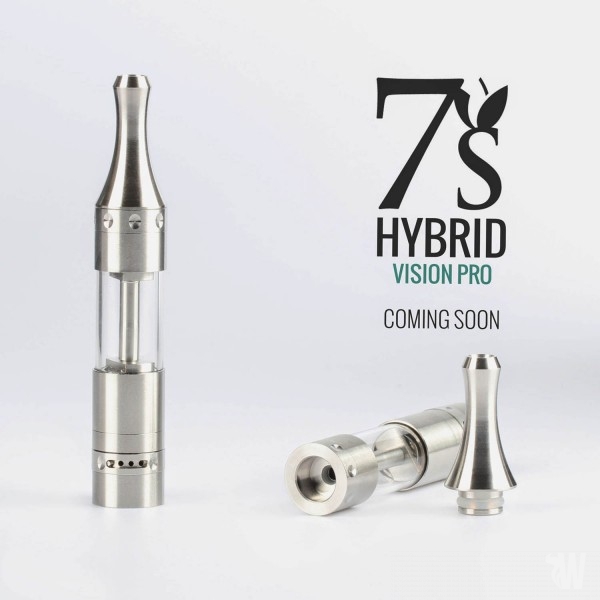 As predicted by some industry analysts and regarded as a natural trend in the vaping community, according to a recent report sales of tank systems (advanced personal vaporizers and mechanical mods) have overpassed the traditional cig-a-like models and disposables. Many vapers have made the switch from tobacco by using these first generation electronic cigarettes, but as constant developments have helped engineers to create more powerful devices, users gradually went and bought mechanical mods and AVPs for a more intense and satisfying vaping experience. The problem is that these mods are not sold by the big ecig companies but rather by smaller, usually China based brands, and the big players are left with two choices – join the movement or steadily run out of customers.
We were pleasantly surprised when we tested and reviewed 7's line of electronic cigarettes, but as time passed we stumbled upon more powerful devices that put these two piece cig-a-like models under a lot of shade. However, just like other top players on the market, 7's decided to give its clients exactly what they are craving for and they came up with the Hybrid Vision Pro, a powerful vaporizer that uses a refillable tank instead of the regular flavored cartridges.
According to the company's website, 7's takes your electronic smoking pleasure to the next level with their Patented 7's Hybrid Vision Pro Cartridge. The new 7's Hybrid Vision Pro Booster Kit provides visual feedback of their e-liquid level within the Vision Cartridge giving you an improved overall vaping experience. A device that took almost 4 years to design, offers you an intuitive way to see exactly how much e-liquid you have in your tank.
The 7's Hybrid Vision Pro Cartridge included in the kit, comes with a pre-installed disposable atomizer that you can replace as-needed without replacing the entire tank. With this exclusive technology, they have achieved a system that maximizes vapor production when coupled with your choice of 7's e-Liquid. The battery is powered by a 650mAh Lithium Ion Cell, and can be charged via the USB-Mini port while acting also as a pass-through. The built-in 'Smoke n' Charge' feature allows you to smoke your Hybrid Vision Pro while it is plugged in with the USB Cable. Never worry about running out of power. The company believes this should be standard on every electronic cigarette. Also the battery is designed with 'Power Smart' protection circuits to prevent overcharging. The 7's Hybrid Battery consistently delivers dependable power that is very easy to recharge. When the light turns off, it's ready to puff.
Cartridge Features: Solid Stainless Steel; Glass Chamber Reservoir; Bottom Dual Coil Atomizer (BDC); Adjustable Airflow Valve; Top Fill for Improved Convenience; Drip Tip Compatible; Hybrid Battery Compatible; Hybrid Snap On Mouthpiece Compatible; Lower cost of replacement atomizers;
RELATED REVIEWS: