Nextmind CT1 vape review - pocket style pod system with self cleaning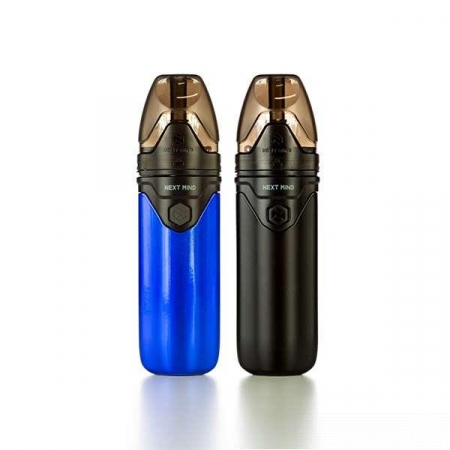 We are not usually fans of ceramic coils, but the Nextmind CT1 vape is definitely something worth checking out. This revolutionary pod systems features two types of atomizer heads as well as an automated self-clean function. You basically press the button for three consecutive times and the coils go through a burn-in process that gets rid of any residue.
What you get with the Nextmind CT1
The device comes in a standard cardboard gift box and it's available in a variety of colors including: black, blue and rainbow.
With the kit you get one 3.5ml pod or tank, two different resistance atomizers, a micro-USB cable for charging and the user guide. Unfortunately this device is not compatible with TPD regulations, therefore it cannot be purchases by vapers living in Europe.
Design and key features of the Nextmind CT1 vape
The Nextmind CT1 vape is basically an open pod system, which allows the replacement of coils. It measures 94 x 27 x 20mm and weighs just around 60g. Due to it's petite form factor and weight it's a very stealthy vape that will fit inside any pocket.
The pod is easily detachable from the battery and this makes the refilling and coil replacing processes very easy.
The battery has a total capacity of 650mAh and it charges via the micro-USB slot on the bottom. There's a single button to power on and operate the device, and this turns blue when activated.
With the Nextmind CT1 pod vape you get dual functionality. You can activate the device by pressing on the button, or you can just inhale through the mouthpiece. This makes it highly convenient, and you can easily turn it off when not in use.
The Nextmind CT1 pod and ceramic coils
The Nextmind CT1 pod has a total capacity of 3.5ml and is refillable. Just turn it counterclockwise and it will detach from the battery. The take off the base of the pod and you're left with convenient access to the fill port. This is protected by a red rubber gasket, which is also connected to the inner part of the tank.
There are two types of coils compatible with the pod system: the 1.0 Ohm ceramic atomizer and the 1.2 Ohm atomizer, that's also made with ceramic. These two coils are color coded and they are both suitable for moth to lung inhales.
And while flavor is not the same as with other cotton-based coils, it's pretty intense - especially fruit fruity flavors. Also vapor production is on par and consistent all throughout the battery charge.
Nextmind CT1 vape: Performance
The Nextmind CT1 vape is a decent performer with some unique features. It's the first pod vape that allows for automatic coil cleaning and it actually does a nice job. Flavor is not as good as on some of the competitors but this is mainly due to the ceramic material.
The coils last for a very long time and vapor production is quite impressive from a device this small. The device is easy to use, easy to refill and it's super simple to change coils. The battery takes around one hour to recharge and it will last almost a full day if you don't over use it.
We recommend 70/30 or 60/40 nicotine salts e-liquids for best results.
RELATED REVIEWS: