Quick nic Juice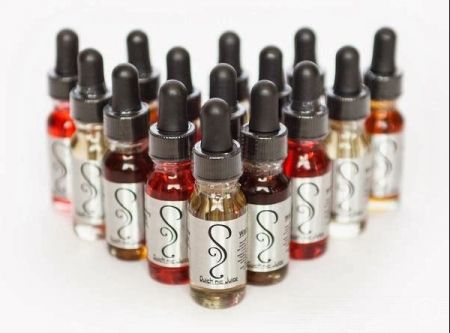 Quick nic Juice is an American e-liquid manufacturer and e-cigarette tobacco shop from Sandwich, Illinois. They have a full juice bar set up to try all of their ejuice flavors on your equipment or theirs. It was founded by a couple of ex-smokers and DIY eliquid enthusiasts that have the necessary experience in order to provide the best juice money can buy.
Their ejuices are separated in two categories: 'E-Liquid' and 'Slow Brewed NETs'. The first category is made fresh with every order, with the best quality ingredients and every batch is fully traceable. As all of their e-juice is made to order, some flavors, especially the tobacco flavors, might need some steeping time, for the flavor to really come to its full potential. On the other hand, the Slow Brewed NETs are handmade tobacco flavors, made inside their lab. They start by soaking high quality tobacco for weeks in PG, VG or a mixture of both before they strain and triple filter the liquid to remove any tobacco left. What's left is a great fresh tobacco flavor similar to that of a freshly opened pack of cigarettes.
555, Apple Pie, Banana Cream, Black Coffee, Blueberry Crumble, Chocolate Glazed Donut, Cinnamon Coffee Cake, Citrus Punch, Clove Cove, Dragon Fruit, English Toffee, Enigma, Georgia, French Toast, Fukola Cola, Godz'Nilla, Grandpa's Night Cap, Grape Freeze, Habana Daydream, Hump Back, Joy of Almonds, Keoke Coffee, Kuba Kuba, Lemon Meringue Pie, and Mint Chocolate are just a few of the 54 available flavors. They all come in 5, 15 or 30ml glass bottles and there are five nicotine levels to choose from. You can also choose the VG ratio (30%, 50% or 100%).
When it comes to tobacco flavors, their RY4 is one of the best on the market and after taking a puff you quickly understand why. With the caramel and vanilla on the background, serving as the flavor shapers, nut is definitely the dominant note here. The sweetness is not overpowering and you can clearly feel the tobacco. Overall it delivers a smooth vape, excellent vapor production and great throat hit.
Another bestseller from Quick nic Juice is their mysterious 'Enigma' e-liquid. It's a flavor that is very hard to describe but it's like a mixture of caramel, vanilla, nut and chocolate. It's a real masterpiece when it comes to desserts with all the notes perfectly balanced. It delivers a great throat hit and lush clouds of vapor with the 30% VG base. And if we are talking about sweet aromas, then their fruit flavors are definitely worth the money. Some of the best 'Peach' and 'Raspberry' we have ever tried and with so many options available it will be pretty hard to make up your mind.
RELATED REVIEWS: