Vapers in London welcome their first e-cigarette coffee shop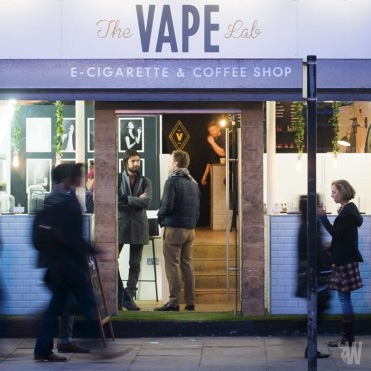 Despite being introduced in the US and Europe just a few years ago, sales of e-cigarettes rose from £2.5m to £23.9m in 2012 and around 1.3 million people in Britain enjoyed their ecigs last year. While still in tests about the long-term effects on human health and the environment, these tiny devices have become increasingly popular among ex-smokers as a healthier alternative to traditional tobacco smoking.
At the end of March 2014, the British Government declared its intentions on banning tobacco packaging. All companies will be compelled to adopt standardized, regular packaging with visible warning, after a similar process in Australia led to significant results in the use of tobacco by minors. But while traditional tobacco products are facing more and more restrictions and regulations, their electronic counterparts are enjoying the biggest boom ever.
Many vaping communities have developed all across the US and Europe and in a major metropolis like London, the crowd was craving for a place to meet up and enjoy vaping on their personal vaporizers. And while from outside it may look like any other coffee shop with carefully distressed wooden tables, French café-style chairs, and a sleek bar with a huge blackboard displaying the bill of fare, the Vape Lab in Shoreditch High Street is the first e-cigarette coffee shop in London and is nothing but ordinary. Everyone inside the cafe is puffing on his or her e-cigarette with a latte or an espresso alongside.
The Lab is Britain's first 'vape cafe' and it has opened its doors to customers since March 2014. Here people can buy and vape on e-cigarettes while indulging their nicotine habits without breaking the law. It was launched by two businesspersons, Pierre Durand and Jonathan Cadeilhan after noticing the success of such establishments in France. They also plan to open a sister cocktail bar in a few weeks' time.
The vape cafe wants to appeal to all Londoners that are curious about vaping or to those that are using their devices for quite some time. "They want a shop where good quality products are sold, whether they're smokers who want to quit, hipsters or City people. Jonathan was convinced the timing was right and we just had to do it as soon as possible. Great people make a great atmosphere, and only cool people come to the shop. Cara Delevingne is a fan of e-cigs. We will personally supply her if she wants." Said co-founder Pierre Durand in an interview to the Hackney Post. "Our ideal customer is someone with a smile on his face when he leaves the shop, who enjoyed his time with our team, and of course who is happy about the products he bought." He added.
There are currently 19 flavors available for the cafe's customers, including bubblegum, strawberry, and custard. The base units are priced between £45 and £100 for a kit, but vapers also have the choice of renting an e-cigarette at £15 per person per hour.
RELATED REVIEWS: