Vaporesso Polar Starter Kit review - great mod and tank combo for clouds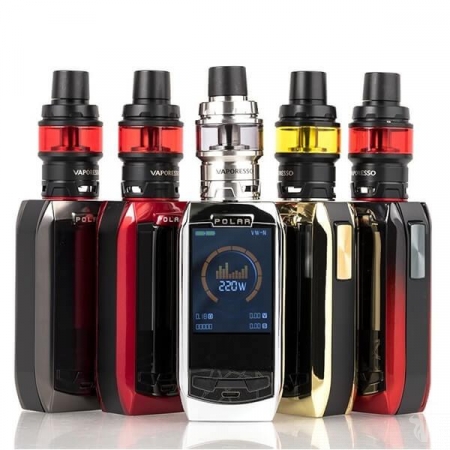 The Vaporesso Polar Kit is the latest release from this company and it's a very impressive box mod and sub ohm tank combo. It's powered by the new OMNI BOARD 4.0, one of the fastest and safest chips on the market right now. The device takes two high drain 18650 batteries and has a maximum output of 220W. One of the most interesting features is the Super Player Mode where the device adapts power according to the tank you're using. This is a very efficient way to get the most clouds and flavor without any dry hits.
Contents and available colors
The Polar starter kit from Vaporesso comes with everything you need. It includes two different coil heads, a spare glass section, charging cable, user guide and manual. The CASCADE Baby SE Tank matches the color of the mod and you can get these in grey, red, gold, silver, red-and-black, blue-and-black, and green-and-black. The design
On first glance the Vaporesso Polar Kit is somewhat similar to the Revenger. It has the same size and height but there are some elements that set it apart. The screen is much bigger, brighter and full of color. The Polar uses a 2-inch color display with real time clock screen saver. It's really beautiful and a pleasure to look at during day to day use.
The kit measures 144mm in height – with the tank included – 45mm in width and 28mm in depth. It has the display, adjustment buttons and micro-USB slot on the face and the battery panel on the back. This panel has a modern art style finish that matches the lines on the other side. It's held in place by three very strong magnets and doesn't have any sort of rattle.
You will need two high drain 18650 batteries to power on the Vaporesso Polar. These are placed in series and we recommend 30A or 35A cells for best results.
The new OMNI BOARD 4.0 and its features
The OMNI BOARD 4.0 is one of the fastest chips we ever saw inside a mid-range box mod. It's has a response time of under 0.001 seconds and it hits like a locomotive. It's also packed with safety features like dry hit, short circuit, overcharge, low current, low resistance and ESD protections.
The firmware is fully upgradeable and it's one of the first mods to feature 2.5A fast charging. This will charge two standard 18500 batteries in around 1.5 hours. It's very impressive but it's not something we totally recommend. It's always better to use a desktop charger in order to increase the lifespan of your cells.
With the Vaporesso Polar Kit we get Super Player Mode where it adjusts power according to the tank resistance. This can be anywhere between 0.03 – 5 Ohms and it ensures compatibility with a wide range of atomizers. We also have three variable wattage mods with pre-heat, temperature control, TCR, power curves, temperature curves and bypass mode.
The Cascade Baby SE tank
The Cascade Baby SE tank is Vaporesso's latest cloud chasing device and it performs like a champ. This tank features triangular airflow and child-safe top fill. It comes with the new mesh style coil and this is perfect for flavor and vapor production.
The glass section matches the overall color of the mod. The tank has a total capacity of 7ml and a diameter of 25mm. It comes with a 11mm wide bore 510 drip tip and this one is very comfortable on the lips.
Performance
In terms of performance the Vaporesso Polar Kit is a product we definitely recommend. The board is super responsive, packed with interesting features and a pleasure to use. Build quality is pretty good and the color display is a nice added touch.
Flavor and vapor production are great with both coils, though we mostly used the mesh atomizer. This delivers thicker, more flavorful clouds and has a longer lifespan.
RELATED REVIEWS: