VaporFi Air 2 Mini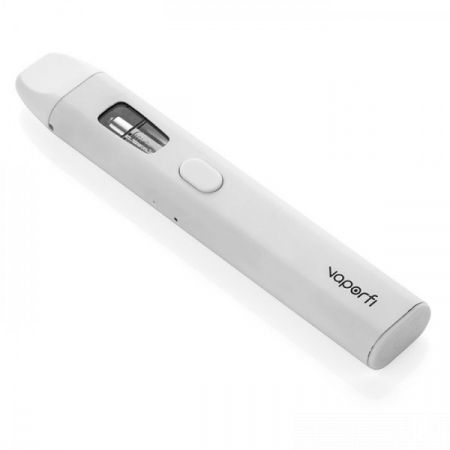 The VaporFi Air 2 Mini is one of the most affordable mouth to lung solutions for beginners in general and people switching from cigarettes. It's designed as a refillable alternative to pod style vaporizers and it's highly efficient. Vapor quality and quantity are way above the price tag and this makes the Air 2 Mini a great back-up device to take at the office or when traveling.
The tiny all in one vaporizer measures 105mm x 18mm x 10mm and comes packed in a standard Vaporfi presentation box. With the kit you also get a micro-USB charging cable, the user manual, as well as two 1.1 Ohm atomizer heads intended for mouth to lung use.
With its minuscule appearance the VaporFi Air 2 Mini hides a 350mAh battery under the hood and it has a maximum power output of 15W. This of course means you will have to recharge it more often than a vape pen but it should ensure around 2-3h of moderate vaping.
This device is a lot more versatile than a pod vaporizer or a cig a like because it comes with a built-in 1.4ml e-liquid tank. This means you can use it with your favorite juice and you can refill it as many times as you like.
The VaporFi Air 2 Mini has a single button and it's very easy to use. There's also an LED notification light that blinks each time you take a puff. The airflow in non-adjustable and the micro-USB slot is located on the side. The good news with this vaporizer is that you can use it while it's charging so you won't have to worry about battery life when you're at home.
The mouthpiece also acts as a tool to help you unscrew the chimney section. This way you can fill up the reservoir with e-liquid up the the max indicator or replace the atomizer head. Just make sure you use juices with no more than 70% VG because the wicking holes are super tiny and you could get dry hits afterwards.
The VaporFi Air 2 Mini is very powerful for its size and one of the best performers in this category. Vapor quantity is quite generous and flavor is pretty good too. You can also use it as an oils vaporizer if you buy a special set of coils from the company's website. Except for the moderate battery life we didn't find any other cons with this tiny personal vaporizer.
RELATED REVIEWS: