VaporFi Edge Starter Kit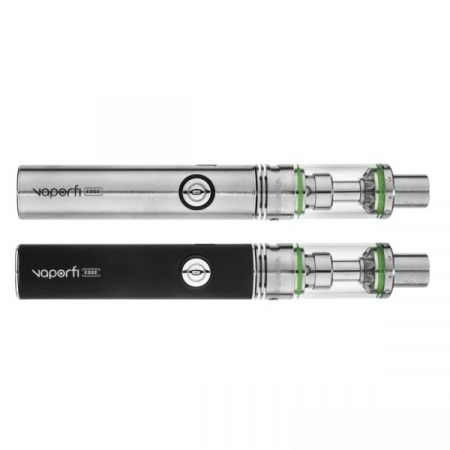 Specially designed for all those vapers out there who want to experience sub ohming but are intimidated by complicated menus and features, the VaporFi Edge Starter Kit is the perfect tool to enjoy vaping on so many levels. A kit made for beginners and intermediate users, it includes two different types of atomizer heads as well as a powerful battery to last almost a full day.
But in contrast to traditional eGo vape pens, the VaporFi Edge Starter Kit is bigger in both length and diameter and is more similar to a mechanical tube mode. However the battery is internal and it also comes with a variety of safety features like short-circuit protection and overcharge protection to offer a great vaping experience but without the risks.
This kit comes packed in the standard Vaporfi green and white cardboard box and inside you will find the battery, the Edge tank fitted with a 0.5 Ohm atomizer, a spare 0.2 Ohm atomizer for even bigger clouds, a 510 drip tip adapter, a spare tank Pyrex glass tube, a micro-USB charging cable, wall adapter and user's manual. If you haven't used sub ohm coils before, then you're in for a big surprise because the flavor and the amount of vapor are far superior to any standard tank. There are however, some things you need to know, like that the vapor will be a bit hotter, the battery will drain faster and the same goes for the e-liquid.
The VaporFi Edge Starter Kit battery is simple yet highly efficient. It's charged via a micro-USB port and the process takes a maximum of 2 – 2.5h with the provided micro-USB cable. It is rated at 1800mAh and it can reach a maximum power of 100W with some coil heads. It is fitted with a single button, so you can't adjust the wattage or voltage, but it's smart enough to do this automatically, depending on the resistance of your atomizer head. The battery also comes with a voltage indicator light that blinks green as the battery is anywhere between 100% and 25% full, and then turns red to let you know it's time to plug in the charger. The maximum output voltage is 4.2V and the maximum current is 40A so it's built to perform like a true champion.
The Edge tank that comes inside the kit is also a beast when it comes to vapor production and flavor and it's vaporfi_EDGE2designed with an advanced cooling system to make those clouds bearable even with the 0.2 Ohm atomizer head. It has a total capacity of 7ml of e-liquid, which makes it one of the most generous tanks on the market today and it can work with regular 0.5 / 0.2 Ohm coils as well as with Ni200 temperature coils. In order to use it with the temperature sensing coils you need to have a mod that's also compatible with this option, because the Edge battery wasn't built for that.
The atomizer heads have been specially designed to deliver maximum flavor and vapor and they have adjustable juice feeding holes. Depending on the VG concentration and the output power (when used with a different mod) there are 3 settings you can adjust to take full advantage of this amazing sub ohming experience. The tank also has adjustable airflow to ensure a proper draw regardless of the user's vaping style.
The VaporFi Edge Starter Kit is a great product for anyone curious about sub ohm vaping and it does its job flawlessly. The build quality and materials used are top notch and everything about this vape pen is great to say the least. It's very simple to use, intuitive and replacing the coil heads or refilling the tank with e-liquid is done with great ease. I would recommend this to all of my vaping friends who still use cig-a-likes, traditional eGo vape pens or want to give sub ohming a try.
RELATED REVIEWS: