VaporFi VAIO 75 TC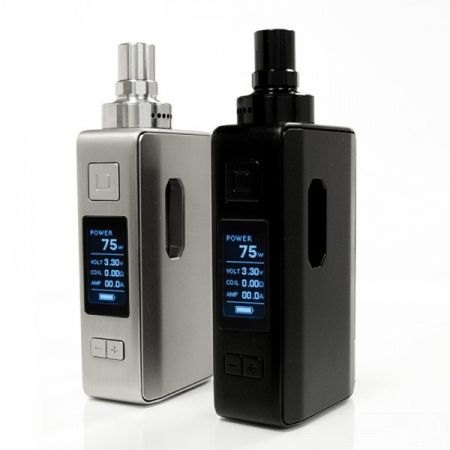 All in one kits are excellent for beginners. Especially if you are coming from something like a vape pen or a cig-a-like. They have the tank fitted inside the mod so you don't have to worry about cracking the glass and they are virtually leak proof. The VaporFi VAIO 75 TC is one of the best we tested so far and flavor on this bad boy is just amazing.
Sure we tested the VAIO 80 TC a couple of months back, which is rather similar but this one comes with a removable 18650 battery. This is a far better option if you have a couple of 18650s lying around your desk because you can easily swap them when they run out of power. And while you can charge the battery inside the mod, it's always better to have an external charger and deal with two cells at once.
The VaporFi VAIO 75 TC comes packed in a white and green cardboard gift box. Inside you will find the mod itself which comes with a 0.25 Ohm coil pre-installed. You also get a spare 0.5 Ohm coil, a 510 rod adapter, a charging cable and the user manual. The device measures 82 x 48 x 25mm and is available in black or stainless steel.
On the top of the box mod there's the atomizer with the 510 mouthpiece and the airflow adjustment ring. The coil however is located at base of the chimney and it makes contact with the bottom of the tank. This is a system we first saw on the Joyetech Cubis and it does a great job at preventing e-juice leaks. The only downside is flooding or gurgling after each refill, but Vaporfi included a guide on how to solve this problem.
The mod features variable wattage between 1 – 75W and temperature control for Nickel, Titanium, SS316 and TCR. It works in both Fahrenheit and Celsius and since both coils are made from SS316 you can use them in any mode you like. There's also a Bypass option so you can use the device as a mechanical mod, where it automatically adjusts wattage depending on the resistance of the atomizer. With the 510 rod adapter you can also use the VaporFi VAIO 75 TC with any 22-24mm tanks or RDAs you enjoy.
The built in tank has a total capacity of 3.5ml and comes with top fill and airflow adjustment. The 0.25 Ohm Notch coils give a lot more vapor but they tend to drain the battery faster. The 0.5 Ohm atomizers on the other hand offer a perfect balance between vapor production and flavor. We used these at 30-35W and the overall experience was more than enjoyable.
Performance wise, the VaporFi VAIO 75 TC is a decent performer and one of the best all in one kits we tested so far. The battery door is held by strong magnets, there is no rattle and the build quality is impressive. Vapor production and flavor are top notch but we don't recommend using juices with a VG concentration higher than 70%. And considering a 5-pack of coils goes for only $14.99 this makes it a very affordable solution for anyone looking to stay off cigarettes.
RELATED REVIEWS: