Volcano Inferno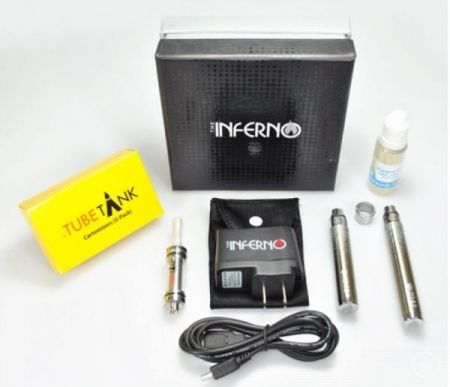 Volcano is one of the most reputable electronic cigarette brands on the market and their site is a place where you should look if you want to buy a new ecig or replace it with a top notch one. You may think that after years of offering the best quality, the Inferno Kit is not big news, but after testing it for a few days, I must say that in fact, it is.
So, what makes it so special? Well, the Volcano Inferno kit is indeed an ultimate one, including everything you need for starting your experience with the e-cigarettes. You get two batteries with huge capacity, wall and USB chargers, five refill cartomizers and a 15ml bottle of e-liquid, everything wrapped in a great gift box. In case you didn't get it, you can refill the tank with liquid, saving a lot of money and being sure that you won't drain your supplies before getting other supplies.
The Volcano Inferno Kit launch isn't just a marketing stunt, the launched product being really innovative, improving the whole vaping experience. Why's that? Mainly because it brings the Inferno Tube Tank. This is bigger than the ones used by any other e-cig company, so you can fill it once and forget about it for a few days, compared to the one-use only cartomizers that won't last more than one day. And for refilling it, you only need to unscrew the mouthpiece, pour the liquid in, and that's all. Without wasting money on expensive components and recharging kits, you can experience 2 or 3 days of vaping. All the technical details sound great, but what about the usability? After only a few minutes of using it, I can say that the Inferno Kit produces much more vapor, and the premium e-liquid makes it very flavored. I sincerely don't know if it's because of it or because of the redesigned heating system, but I must confess that none of the electronic cigarettes I used are so capable.
I'd like to have something negative to say about this kit, but after rigorously testing it, I can say that it is as good as it can be. It looks completely stunning, it is easy to use, and you are able to refill the tank directly from your e-liquid bottle. It is produced by Volcano Ecigs, and they offer one year warranty plus free shipping, so I don't see what can possibly stop you from ordering it right now!
RELATED REVIEWS: