The world's first E-Cigarette zone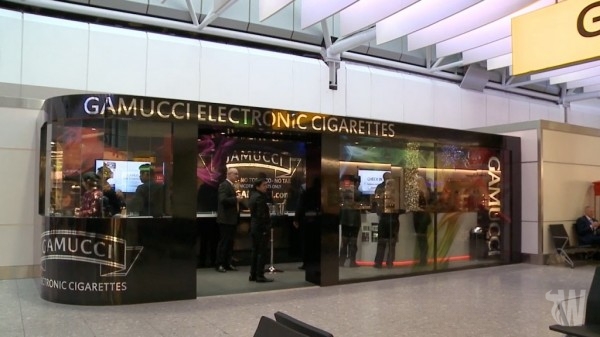 One of the world's best and the third busiest airport, Heathrow Airport in London, United Kingdom has recently inaugurated a "vaping zone". A lounge exclusively for those who vape e-cigarettes or vapers.
Heathrow Airport formerly known as London Heathrow Airport and popularly known as LHR, serves mostly international passengers in central London. It's the busiest airport in the UK and the third over all worldwide.
The world's first e-cigarette zone is the brainchild of Gamucci, a popular UK e-cigarette brand and made a partnership with the airport to allow them to build the lounge. They also sell e-cigarettes and accessories in the lounge but of course carries only Gamucci brands. The zone is located at Terminal 4 next to brand shops and duty free. It is 30 square meters in size and entry is restricted to 18 years old and above.
When the vaping zone was opened to the public there are still precautionary measures that were needed to comply by users. There is no other spot in the airport that vapers are allowed to do so in the airport. Vaping will not be allowed inside the terminal buildings or anywhere except in the vaping zone. They can be carried in your luggage and hand-carried bags but the public is advised to check with the airline company first if they will be allowed to bring it inside the aircraft.
In a recent survey by Skyscanner an independent body from the Heathrow Airport a Gamucci, found out that 57% of the 1000 respondents are in favor of this new development even in other airports. Surprisingly 50% of non-smokers are in favor of this new vaping zone. This simply means that majority of travelers would like this zone to be implemented on other airports as well and even on other public places.
Ironically, this has commenced in a time wherein the British government was aiming on regulating e-cigarettes as medicines but was rejected European Parliamentarians and even across all of the European Union (EU). This is indeed a bloody bold move by the nation's largest airport. But this is foreseen by critiques that this is the beginning of a wider acceptance of the e-cigarette as an effective smoking cessation product.
RELATED REVIEWS: