AGA TD Rebuildable Atomizer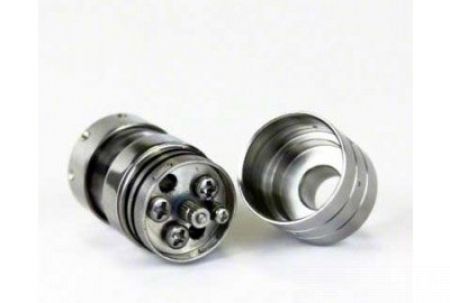 A highly customizable atomizer, the Youde AGA-TD is a Genesis style dual-coil, dual-mesh rebuildable made from high quality stainless steel and it's about to impress any advanced vaper with how it performs. It has a sealed 510 connector, and airflow is achieved by air holes on the cap that have to be lined up with the air holes in the inner rim of the same cap.
The UD AGA TD comes in a nice black cardboard presentation box with some colored vapor all around it. Inside the box, besides the atomizer you get a small plastic bag with additional screws, spare insulators, O-rings and even some Kanthal wire.
It has an exterior diameter of 22mm and at total capacity of 2ml of e-liquid. The tanks walls are made of good quality Pyrex glass and the top cap is held in place with the help of two O-rings. The deck is surrounded by a really deep lip with two slots cut out on both sides to allow airflow to pass through the atomizer. While it's really efficient, it makes it quite hard to work with the Kanthal wires around the negative posts. The build quality is very good, with everything fitting nice and tight, no leaks and a lovely appearance on any mechanical mod.
On the deck you can see a positive post, two mesh negative posts, a wick negative post and a fill port covered by a Philips head screw. This ensures the AGA TD works with both mesh or rope wick.
However, the AGA TD should be purchased only by vapers who intend to use it with dual coil builds. The reason is that there are two holes for the wicking material that are not screw-threaded and thus cannot be plugged off to prevent leakage without some type of DIY modification. Also building the coils can be somewhat tricky due to the lip and the dimensions of the screws but once you sort it out, prepare for some thick clouds of delicious vapor.
Overall, it performs flawlessly and it's one of those go-to attys if you're a big dual-coil fan. You can use it with a single coil build also but you will have to keep it upright to prevent leakage. Vapor production is amazing and the accompanied throat hit unbeatable. For a price tag of $30, the AGA TD is a definite best buy if you're looking for a good quality Genesis style atomizer.
RELATED REVIEWS: