Aspire Nautilus Adjustable Airflow Tank System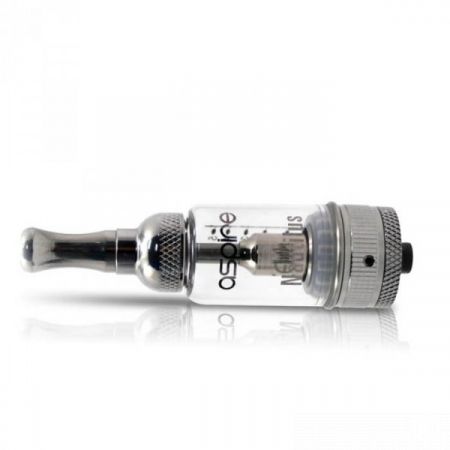 By far one of the best and most popular tank systems of 2014, the Aspire Nautilus uses a truly revolutionary airflow design that is setting a standard for Pyrex tanks with adjustable airflow. In short, the Aspire Nautilus is a chimney style tank system with an adjustable airflow control done in four settings. It uses a newly designed, bottom fed, dual coil head that is both long lasting and replaceable.
It comes packed in a good quality black cardboard box, wrapped in a thick plastic slipcover, with a picture of the thank on the front and inside you fill find, besides the Nautilus, a spare atomizer coil (BVC, 1.8 ohm), a cone with eGo connection, and an instructions manual. The atomizer comes with the 1.6 ohm coil pre-installed.
The bottom piece can come off from the rest of the tank and on the top part of the Pyrex walls, you get threaded glass which is quite nice. However, you should pay really close attention not to over tighten the top cap since there are a lot of vapers out there who cracked their brand new Nautilus for screwing it too tightly.
To fill up your tank with e-liquid you need to remove the bottom part, hold the Nautilus upside down and start pouring your juice until you reach the top marking. Put it back together again and you're ready to vape. It can hold up to 5ml of e-liquid, giving you more than a whole day of heavy vaping so you won't have to worry about refills that often.
On the lower ring you'll notice four different holes that can be selected with every twist. This is the revolutionary airflow design that lets you adjust the drag, as well as the warmth of the vapor, and how much vapor you want to produce. The holes have diameters of 0.9, 1.1, 1.4, and 1.8mm and depending which one you choose you'll be vaping like never before. This adjustable airflow system works flawlessly and when you pair it with a variable voltage or variable wattage mod, the combinations are endless.
The included drip tip is made from stainless steel and features a rubber sealing O-ring. It does cool off the vapor, but for those of you that don't like tasting metal there's the option of using your own plastic or glass drip tip.
Overall it's an impressive piece of mechanical engineering and definitely a best buy considering the below $30 price tag. You won't be able to rebuild coils with this baby but you'll be cloud chasing in no time. The adjustable airflow really is a game changer and makes the Nautilus one of the best atomizers on the market today.
RELATED REVIEWS: