Uwell Valyrian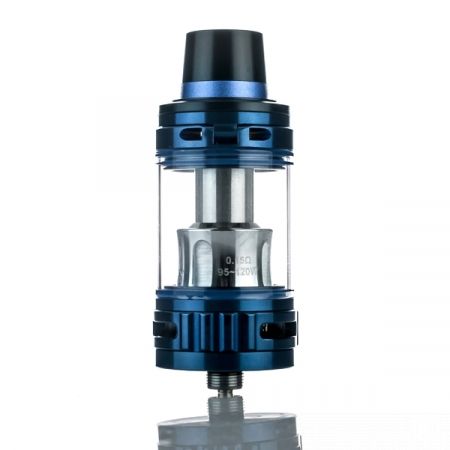 By far one of the most beautiful tanks we ever tested the Uwell Valyrian makes a good impression right from the start. This high power sub ohm tank was clearly built with clouds in mind. It's really impressive in terms of vapor production and flavor and it looks great on top of any mod. And while it's definitely not forged from Valyrian steel, build quality on this bad boy is top notch.
What you get
The Uwell Valyrian comes beautiful packed in a cylindrical plastic box. Inside you will find the tank itself witted with the 0.15 Ohm coil, a spare coil, two coil airflow pins, an extra drip tip, a replacement glass tube and multiple spare parts. You can get it in five different colors with Sapphire Blue being our personal favorite.
Looks and features
The tank has a total height of 62mm and the diameter is 25mm. It's built from stainless steel and Pyrex glass and has a good amount of weight to it. Total ejuice capacity is 5.0ml but you can buy an XL version of the glass tube separately. This will increase capacity by 60% and accommodate 8.0ml of e-liquid.
You get an extra drip tip with the Uwell Valyrian tank. This has a different color around the base and there are matching O-rings inside the bag for it. It's a wide bore 510 drip tip with huge airflow and feels very comfortable on the lips. Also the top cap is insulated with Delrin so you won't have any heat transfer issues.
And since we're on the top cap, this has one of the most ingenious flip top mechanisms ever. You just need to press a small button and the cap pops open. This way you get access to the two fill ports and everything fits together nice and snug. The tank also has adjustable airflow at the bottom with three 8.5mm slots.
The coils
The coils are also something worth writing about. They are very well built and you get a minimum e-liquid line engraved on each coil. Once your juice reaches that line it's time to refill. Besides the regular 510 pin on the base you get two additional ones for different types of airflow and flavor. You simply pull out the original 510 and replace it with any of these two. The improvement is not that noticeable to be honest but it may work for some people or some e-liquid flavors.
Performance
In terms of performance the Uwell Valyrian is one of our favorite tanks from 2017. Flavor is amazing, vapor production is off the charts and build quality feels high end. Coils last for a very long time, they work perfectly with high VG juices and they chuck out clouds like something out of the big league. Sub ohm vaping at its finest!
RELATED REVIEWS: