Joyetech Cubis Tank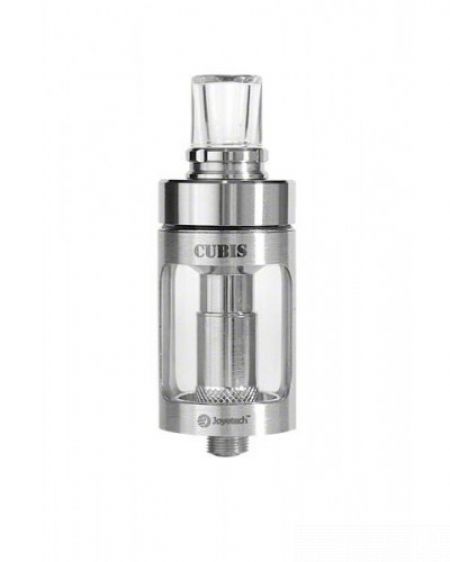 It's not often that we come across something truly revolutionary so today is going to be a very special day because we just got our hands on the brand new Joyetech Cubis tank. And what's could possibly be so special about a tank you might ask yourself. Well, it's the first leak proof sub ohm tank on the market today and it has a very innovative design. And when we say leak proof, we do mean leak proof, because the way this tank was built helps it keep the e-liquid inside regardless of the way you're tilting it.
Another thing you should know about the Joyetech Cubis tank is that it doesn't work with the standard eGo ONE type of coil heads as many of the company's products, because they had to completely redesign the system in order to be leak proof. These coils are a bit wider and have a flat base, as they are screwing directly to the chimney piece.
The Cubis tank comes packed in a white cardboard box with a photo of the product on top and inside you'll find a fully assembled unit (with a 0.5 Ohm SS coil head pre-installed), a spare 1.5 Ohm Clapton coil (suited for mouth to lung vaping), and a spare 1.0 Ohm SS coil. It's made from solid stainless steel and Pyrex glass and it has a total capacity of 3.5ml of e-juice.
The tank measures 22mm in diameter, has a height of 60mm (with the mouth piece on) and comes in a wide variety of colors (black, cyan, white, gold, silver, and black). It can be used with several mods from Joyetech (some eGo One models, the eVicVT & VTC Mini) or any other mod with a depth of at least 22mm that can do temperature control (if, of course you want use it in temp control mode). Because both the 0.5 Ohm and the 1.0 Ohm coils are made with stainless steel wire it means you can also use them in variable wattage mode without any concerns (as opposed to standard Nickel or Titanium coils). As a matter of fact, the only thing you can't do with this tank is use the 1.5 Ohm Clapton in temperature control (because it's made with Kanthal).
The Joyetech Cubis Tank has been designed to resemble the functionality of a cup, so the coil is attached to the inner chimney piece and gets removed every time you unscrew the top cap off. It makes contact with the base via a metallic plate and this is the whole innovation behind the leak proof concept. You just unscrew the top cap and everything comes out, with your tank wall acting now as a cup. You can refill the tank as it sits on top of a mod and once you screw the top cap back on, there's no way of it leaking because the airflow adjustment system is located at the top.
We found it to be the best combination between innovation and performance and all of the coils are working great. They do spit and gurgle a bit at times, but only at certain wattages. The Joyetech Cubis Tank can be used by both mouth to lung vapers (with the 1.5 Ohm Clapton coil and the 1.0 Ohm SS coil) as well as direct lung vapers (with the 0.5 Ohm SS coil). It has a very airy draw in sub ohm mode and it produces some really nice clouds.
RELATED REVIEWS: