Playboy Vixen Sub Ohm Tank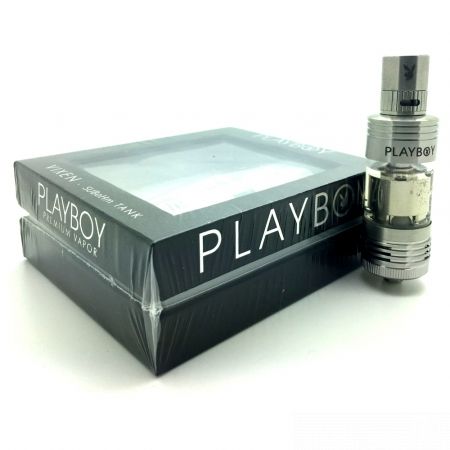 It's time to take vaping two a whole new level when it comes to luxury because we've just seen a range of high quality vape mods , cig-a-likes and tanks released by a company called Playboy Vapor and they look stunning. Elegant, luxurious and with plenty of character these devices are clearly intended for all those people who want to feel like kings or successful millionaires when vaping. And from what we know they do have a license to use the 'Playboy' name and logo so we are talking about the real stuff here people, not any cheap clones.
Today we are going to take a look at one of their atomizers, called the Playboy Vixen Sub Ohm Tank, which despite the fact that uses very similar coils to those found on the Atlantis is has a very appealing design and some pretty nice engineering features like their 'triangle theory airflow'.
The Playboy Vixen Sub Ohm Tank comes packed in a lovely black cardboard box with a transparent plastic top so you can clearly see the product inside and a cool minimalistic infograph on the back which details the technical specs. Inside the box we have the fully assembled tank, a spare coil head and a user's manual located at the bottom.
The first thing you'll notice about this particular tank is that it feels solid and very well built, with an impressive attention to details. It has a diameter of 22mm, a height of 70mm and it can hold a maximum of 4.5ml of e-liquid so it's definitely out there in the same range as most of the other sub-ohm tanks. It's made from food grade 304 stainless steel and the tube is made from Pyrex temperate glass. We honestly don't know if other tanks are also made from temperate Pyrex or if this means it's going to be more resistant to cracks but it's definitely a nice feature.
The 'triangle theory airflow' on the Playboy Vixen Sub Ohm Tank refers to the fact that it has three airflow holes on the base rather than two (as the majority of tanks out there) and this is responsible for a very loose draw when they are left wide open. The device also has an adjustable airflow mechanism included in the drip tip in order to further cool down the vapor when using it at high wattages (over 80W). If you don't like the stainless steel drip tip included in the box you can always use your favorite because it uses a regular 510 connector.
The Playboy Vixen Sub Ohm Tank uses three types of coils – the standard 0.5 Ohm Kanthal version (30-100W), the 0.2 Ohm Kanthal version (30-80W), and the 0.1 Ohm Nickel version for temperature control (50-150W). These coils are made from 316L (surgical grade) stainless steel and the wicking material is 100% Japanese organic cotton so these are extra pros.
In terms of vapor production and flavor the Vixen sure delivers a massive kick and the triangular airflow combined with the airflow mechanism at the top give one of the airiest draws ever. We do however like a bit of resistance when puffing so it's great you can adjust the air from very loose to moderately tight. And because of the whole Playboy license you might expect this tank to cost a lot more, but it only sells for around $30 so it's pretty much the same as the majority of its contenders. So, if you're looking for a chic sub ohm tank with plenty of character then the Playboy Vixen might just be the ideal product.
They also make a Mini version with a lovely Pyrex drip tip, but more about that model in a future review.
RELATED REVIEWS: