Aspire Triton Mini Tank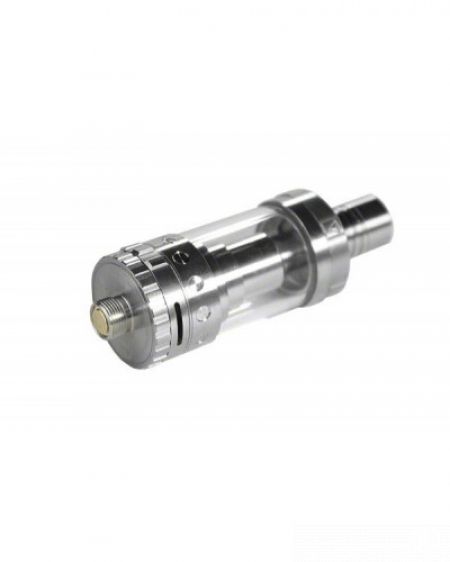 Some of us really enjoy mouth to lung vaping and we have a brand new tank from Aspire to talk to you about. If you know and love the Nautilus you'll also love the Triton Mini because it's an excellent performer when it comes to flavor as it delivers clouds with no effort at all. Since the idea of twisting together several types of Kanthal and creating complex coils such as Clapton, Tiger or Alien, the industry has gradually revolutionized the way we vape and these new generation atomizer heads really make all the difference.
The Aspire Triton Mini comes packed in a black cardboard box with a color indicator right on the top (it comes in stainless, gold and black) and inside you'll find the fully assembled unit with a pre-installed 1.8 Ohm coil, a spare 1.2 Ohm coil, a spare Pyrex glass tube and a user manual. The tank is made from top quality stainless steel and it looks incredibly stylish regardless of the color you choose. It has a diameter of 20mm (hence the word 'Mini') and a total height of about 60mm from the tip of the 510 connector on the base to the mouthpiece on the top.
This tank is compatible with older generation Aspire BVC Nautilus coils but we do recommend using it with the brand new Clapton coils. These have yellow rubber gaskets and are rated at 1.8 Ohms, however the novelty stands in the fact that the wire inside is actually a Clapton. Clapton coils give a much better flavor than standard single wire Kanthal coils and the whole experience is just amazing. It has made us appreciate mouth to lung vaping once again and they do last for more than a week of vaping so you're also looking at some nice savings in comparison with sub ohm tanks.
The Aspire Triton Mini has a total capacity of 2ml of e-liquid and it works with four different types of coils. The 1.8 Ohm Clapton series, the 1.2 Ohm Kanthal series (white gaskets), the 0.15 Ohm Nickel series (red gaskets, only to be used in temperature control mode) and, as we mentioned before, old generation Nautilus BVC coils.
The tank comes with adjustable airflow at the base, however the draw on it is pretty tight even with the 0.15 Ohm Nickel coil (in comparison to standard sub ohm tanks), however it's a lot better than on the Nautilus (with the 1.2 Ohm & 1.8 Ohm coils). It has an adjustable juice flow mechanism and you can open or close the feeding holes depending on the viscosity of your e-liquid. It's also a top filling tank and you just need to unscrew the top cap to have access to the two ports.
It doesn't leak, it's easy to refill and to clean and it delivers a very impressive performance. We enjoyed these new 1.8 Ohm coils and apparently you can also use them on an old Nautilus tank. The Aspire Triton Mini has been a total revelation in terms of MTL vaping and it's probably going to become a legend just like other products from this innovative brand.
RELATED REVIEWS: