Aspire Cleito Tank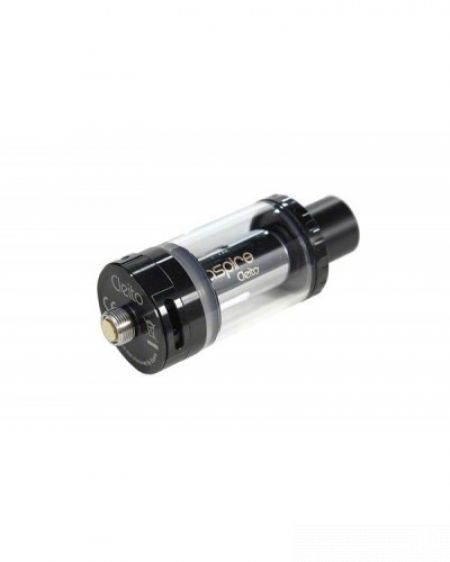 We've always considered Aspire as one of the innovators of the personal vaporizer industry and when it comes to sub ohming, some of their tanks made history. Products like the Aspire series or the Triton series became instant hits within the vaping community and this is why we're so proud to review their latest sub ohm tank. Very affordable, very powerful and with a very simple design, the Aspire Cleito tank has quickly become one of our favorites here at the office and for good reason.
First of all, the Aspire Cleito Tank comes in one of the nicest looking presentation boxes ever and it includes plenty of goodies. It's packed in a very long and slim transparent plastic box and inside you'll find the unit itself with the 0.4 Ohm coil pre-installed, a spare 0.2 Ohm coil, a spare Pyrex glass tube, a vape band and four colored cuffs (which can be mounted on top of the tank for design and color matching purposes).
The first thing you'll notice about this tank is the elongated shape of the coils, as they also include the chimney part and the top cap screws directly to them. They come with the traditional Aspire yellow gaskets and they were built to produce massive clouds as well as flavor. The surprising thing is that despite this tank not having a juice control system, the coils don't leak at all even though you're refilling from the top.
The Aspire Cleito Tank has a diameter of 22mm and a total height of nearly 60mm from its mouthpiece to the tip of the 510 connector. It has a capacity of 3.5ml of e-liquid, and while there are many other tanks with bigger reservoirs, we really enjoy the minimalistic design and the performance. But in order to achieve this performance you need to have a reasonably powerful mod, because these coils require a minimum of 40W to be fully enjoyed. And I'm talking here about the 0.4 Ohm version, because the 0.2 Ohm version needs anywhere from 55-70W for a good vape.
The tank is made from high quality 304 stainless steel and Pyrex glass and comes with a wide bore Delrin mouthpiece included. You can use your own drip tip as the standard one comes off to reveal a standard 510 adapter. It does have an adjustable airflow system at the bottom and the Cleito is probably one of the airiest tanks we've tested so far. Seriously it feels like inhaling from a wide open RDA, and this clearly has to do with the wide diameter coils.
In terms of vapor production you're looking at a real fog making machine over here and flavor is also very good due to your lips being so close to the coil. Also it uses Clapton style wire inside and this really enhances all of the mildly muted notes on regular atomizer heads. It doesn't do temperature control, but honestly it doesn't really need to because the experience it delivers is stellar. All in all, the Aspire Cleito Tank is probably one of the best products money can buy if you're someone looking to switch to sub ohm coils and a much airier draw than on a regular mouth to lung device.
RELATED REVIEWS: