GeekVape Eagle Tank with Top AirFlow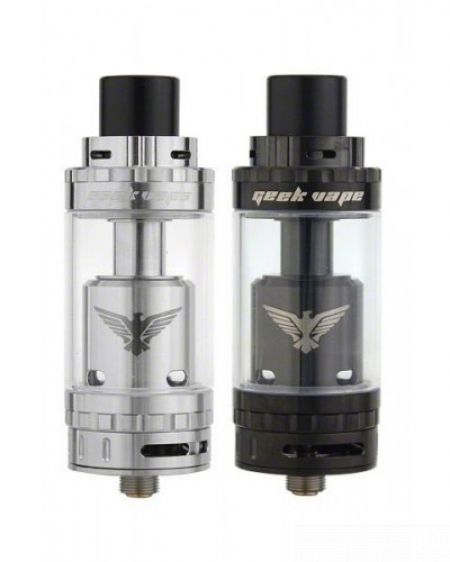 I'm pretty sure many of you would like to give complex coils like Claptons, Tiger and Caterpillar a try, however these are a bit tricky to build and take a long time to mount in the atomizer if you don't have the necessary experience. But with the GeekVape Eagle tank you don't need to worry about that anymore, because it's the first ever atty that comes with a great variety of decks with handmade coils already mounted on top, which only require re-wicking from time to time.
From regular dual coils made with Kanthal wire or Stainless Steel to Fused Claptons, Flat Claptons, Tiger coils and Juggernaut, there are 20 pre-built decks compatible with the GeekVape Eagle tank in order for you to try everything and pick the one that perfectly suits your needs. It comes in the box with a HBC‐S03 (SS316L 3mm Staggered Fused Clapton) rated at 0.2 Ohms as well as a HBC‐D04 – KA1 (3mm Fused Clapton) also rated at 0.2 Ohms.
The tank itself is made from stainless steel and Pyrex glass and it is available in two different colors – black and stainless steel and you can get in the standard layout or you can get the Top Airflow version for only a few dollars extra. The Top Airflow version has a much looser draw and at the same it helps cool down the vapor a little bit, greatly improving the experience at wattages over 60W – 80W.
The GeekVape Eagle tank has a total height of around 65mm (with the drip tip on) and a diameter of 25ml. This accounts for a total capacity of 6ml of e-liquid, which is enough at least 2-3h of moderate vaping. The drip tip is made from Delrin to help protect your lips from the heat and the 510 pin is gold plated to ensure a good conductivity.
On this tank you buy the decks separately and then you simply swap them depending on preference. All of the coils are handmade and pre-wicked, however once you start getting a burnt or off taste you can easily use your own cotton after cleaning the coils (dry burn procedure).
The overall vaping experience on the GeekVape Eagle tank with Top AirFlow is really impressive especially with the dual coil Claptons. The vapor is rich and dense and the flavor is stellar. I did experience a bit of leaking with the HBC‐D04 – KA1, however it got a lot better after I re-wicked it. Overall a truly impressive tank for amateur cloud lovers.
RELATED REVIEWS: