Kanger Aerotank Giant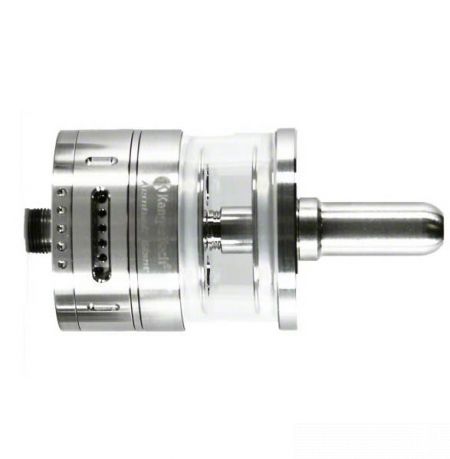 The Kanger Aerotank Giant sums up all the best things from the Protank and Aero series, but with a redesigned airflow valve. As the name probably suggests it, it's huge tank with an exterior diameter of 30mm that's designed to fit perfectly on the big 26650 mods like the Seven 22 or the Hades.
It comes packed in a good quality cardboard box with a transparent film right above the tank making it clearly visible and stand out. Besides the tank (Pyrex tank, top cap, bottom cap and airflow control 510 base), inside the box you will find a stainless steel replacement for the glass tube of the Giant, a 510 stainless steel drip tip, two dual coil 1.8 ohm redesigned atomizer heads, and of course the instructions manual. The entire tank is made of highest quality stainless steel and a bit of copper, and is machined with tremendous precision giving it a very chic appearance.
To fill the Giant with e-liquid you simply remove the bottom cap, put the tank upside down and pour your favorite juice through the four holes just like on the Aerotank Mega. However, you might expect from a 30mm tank called the Giant to hold a lot of e-liquid, but this one only has a 4.5ml reservoir, so there's a lot of wasted space inside of it.
The newly designed coil heads are a bigger than the ones on the Mega and they are well masked, apparently to improve sealing, but at the same time they have the ability of producing a lot more vapor complimented by a richer flavor than all the previous Aerotanks.
The completely redesigned airflow system consists of five consecutive holes that have corresponding markings on the base of the tank, which you can adjust quite easily. By turning the air control valve at the base of the tank clockwise you decrease airflow and you increase it by turning the same air control valve counter-clockwise. The ring is nice and firm and it prevents you from accidentally changing your setting.
Once you mount it on your device and start puffing you'll see that it vapes great, giving out tremendous clouds of vapor and such an intense flavor. The airflow system works flawlessly and it's a great thing to go well with your 26650 mod. There is the issue of the tank looking half full even when you refill it to the top, but it's definitely not a deal breaker, especially with the included stainless steel tube that give it that RDA vibe. Overall, it is a great atomizer that doesn't disappoint at all and performs like a beast.
RELATED REVIEWS: