Alcohol and the electronic cigarette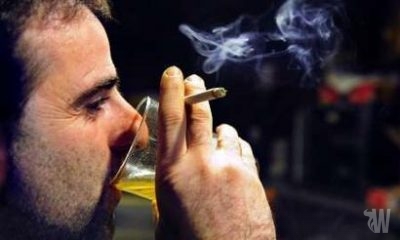 Hello, my name is Dave and I promised to write this article if I stopped smoking regular tobacco for at least 2 months. Well, I've done it! Since I got my volcano starter kit I immediately stopped smoking regular tobacco and I have been smoking it ever since. I do have to say that I really put myself up to the challenge because the deal was that I had to buy my buddy (the one that runs this site) a case of beer and I had to pay him the costs for the e cigarette.
If you're a smoker you know that there are certain moments when the urge to smoke is much higher than other moments. When bored for example there is no use lighting a cigarette. This moment I easily replaced with 1-2 puffs from my ecig. In the morning after my first coffee the e cigarette worked great as well. I got the kit with the highest nicotine dosage which helped a lot.
The ultimate test was about 3 weeks ago when friends called to go see a soccer match in some sporsbar. I was pretty sure I was going to lose the bet. I mean Alcohol and the electronic cigarette? Will it work? Some how I kept smoking my e cigarette and weird enough it worked out. I had no urge and when I felt it I smoked a couple of puffs right away.
Now 2 months later I'm thinking of lowering the dosage of nicotine. I will order heavier nicotine cartridges just in case things get too heavy for me. I'm really glad I got this e cigarette kit because it looks like a fancy pen and not a stupid plastic cigarette.
Savings up to now: $360
Thanks for the bet buddy! You saved my lungs ;)
-Regards Garry
No problem buddy! Thanks for the article!
Are you in for a challenge just like Garry? Email us and get a chance to win a top of the line E cigarette
RELATED REVIEWS: