Customer review about SmokeTip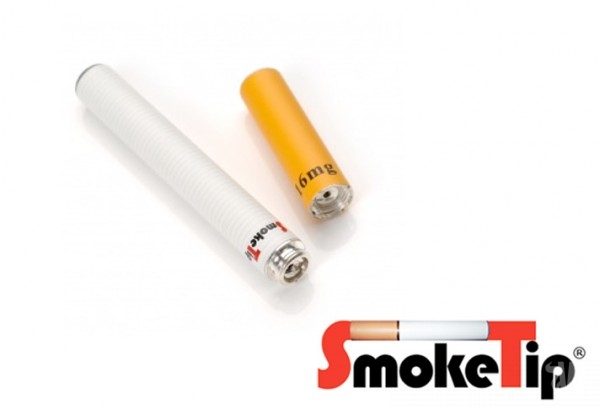 If you're looking for a basic, but good electronic cigarette, but you don't have a big budget, SmokeTip is the perfect choice. The 2-piece e-cigarette gives you a good throat hit, lasts pretty long and is priced really low.
There are not a lot of options when it comes to SmokeTip, but then again, if you want all kinds of models, the price of your e-cigarette will rise. SmokeTip offers a basic kit with two lithium batteries, a charger, and five cartridges. It's packed in a nice elegant box and easy to bring with you. Off course you can expand the accessories with a car charger or extra batteries, but to start the kit will definitely cover your needs.
Instead of being able to change the amount of nicotine yourself, SmokeTip offers four types of e-cigarettes: full flavor light, ultra-light and no nicotine. The full flavor offers 16 mg of nicotine, that's less than most e-cigarette brands do. Most e-cigarettes are adjustable till 18 mg of nicotine. Unfortunately that's not possible with SmokeTip.
The battery duration is pretty average. It lasts about 6 to 7 hours, enough for a day at work at least. The smoke of a SmokeTip e-cigarettes is good enough as well. It's not really thick, but is does give a feeling of actually smoking. The taste is comparable with a light cigarette although it does leave a kind of funny taste in your mouth. It's not a bad taste, but just something you need to get used to.
Beside the cheap basic kit, SmokeTip has real good offers once in a while. If you buy a SmokeTip s-cigarette now and the battery stops working, you can give it back and get a new one for free any time. There are also great discounts on the flavors they offer and shipping is free. SmokeTip is a perfect e-cigarette if you just want it to smoke. It's a no nonsense e-cigarette and does what it's made for.
Starters kit: 49,95 dollar
RELATED REVIEWS: