Apollo VTube 3.0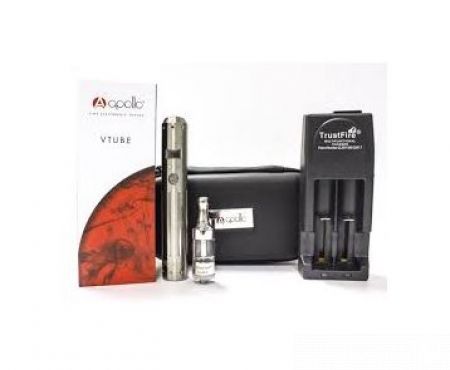 Apollo ecigs is one of the most well-known and respected brands on the electronic cigarette market. They have been around since 2008 and judging by the online user reviews and constant forum postings, they also have a very loyal and ever increasing clientele. The company has its own Research and Development manufacturing facility, which means they produce their own electronic cigarettes and e-liquids.
Apollo has five different starter kits available for its customers, but today we are going to talk about one in particular. The Vtube 3.0 is the latest incarnation of the ever-popular flagship vaporizer, one of the first devices to ever let users change the voltage settings on an e-cigarette.
Like in the case of all Apollo products, the packaging is high quality and not only was the Vtube 3.0 in a factory sealed box, the device itself was heat sealed in its own protective bag and all the box contents were carefully packed.
Compared to its predecessors, the VTube 3.0 has a bigger LCD screen that is also curved and follows the design of the device with an increased contrast and better visibility under sunny outdoors conditions.
The plastic plus and minus buttons are still very small and located just below the display. The puffing button has moved from the side to the front and is now illuminated by a blue LED when pressed. The v3.0 button is made from clear plastic and is slightly larger than an average eGo button. It rotates freely thus preventing occasional sticking and misfiring.
The VTube 3.0 boasts a sleek, finely brushed satin stainless steel look, which has a nice resemblance to titanium and it also appears to have been lacquered in order to further protect the shiny finish.The end cap has also been redesigned and is now roughly double the size of the previous flatter version and has a cup shaped appearance.
The Apollo Vtube v3.0 produces amazing amounts of vapor and now features variable wattage in addition to variable voltage. Its redesign now includes a removable top cap to allow the use of even more clearomizers and atomizers and makes cleaning your device fast and easy.
Here are some of the features of this dazzling Advanced Personal Vaporizer: adjustable voltage from 3.0 to 6.0 volts; adjustable wattage from 1 to 20w; crafted from high quality stainless steel; the top cap can is detachable; has both 510 and ego connections; comes with a locking system; comes with a nice big firing button; has a built in ohm meter to read the resistance of the atomizer; it can display the remaining battery charge; the battery cap has vent holes to prevent overheting; accommodates 18650 batteries;
The Apollo Vtube 3.0 is a big improvement over previous versions, and the addition of variable wattage, an Ohms meter, enhanced style refinements and overall build quality make it one of the best AVPs on the market today.
RELATED REVIEWS: