The SmokTech Magneto Mod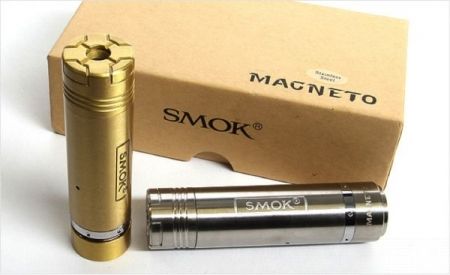 The Smoktech Magneto is a fully mechanical, stainless steel, telescopic advanced e-cig mod. It features the 510 thread connection that allows for the Magneto to use almost any atomizer, cartomizer or tank. And while it looks almost identical to the first version, the V2 comes with an adjustable center pin.
Its design is amazing and the brushed body features a lot of details, such as the engraving on the top cap and a stylized spider etched into the bottom-mounted button. While some vapers may not be particularly fond of the large "SMOK" logo engraved into the bottom tube (some versions of the V2 come without the logo), the other details like the creatively-etched air channels in the top cap, and a small polished section just above the large reverse-threaded locking ring, give the Magneto a classy and particular look.
Instead of using a spring, the Magneto uses a magnetic switch. Inside the switch there are two magnets with the poles facing each other on the bottom firing unit. This creates resistance to emulate a spring, but without a spring to wear out, the mod will last longer. The switch also has a reverse threaded locking ring to prevent the unit from firing when not in use. The Magneto comes packed in fancy cardboard box and the build quality is excellent and while the threads are a bit rough they still work impeccably. The Magneto also has brass contacts for better conductivity and the telescope feature will allow for the use of 18350, 18490/18500, and 18650 batteries.
Before ordering your device you might want to know that it has some issues with older RSST cartomizers so be careful to ask the vendor for compatibility if you already own such a piece.
The Magneto V2 is one of the best China-made mechanical mod on the market. This thing is an incredible fire piece that will bring to life any style of atomizer that you attach to it. With a magnetic firing switch that presses in effortlessly, you will clearly be impressed every time you use it. It delivers outstanding performance with very low voltage drop and you'll be able to enjoy those thick clouds of vapor for a very long time.
Keep in mind that if you don't have a mechanical mod yet, this device might be the perfect thing for you as it delivers incredible performance for a very reasonable price.
In the end, let's review the most important features of this mod: high quality stainless steel; the firing button is magnetic; has the popular 510 connection; locking mechanism for the firing button; the pins are made from brass; you can use a kick;
RELATED REVIEWS: