Nzonic V3 Mod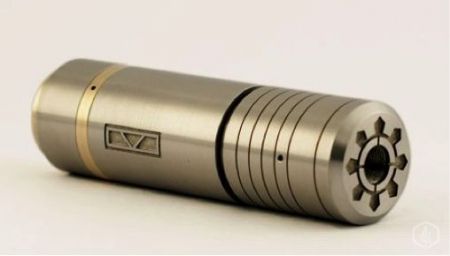 Coming out of the Philippines, the Nzonic V3 is pretty unique. It can work with different types of batteries, crafted from stainless steel and good quality brass, having an exceptional finish. It is a beautiful mod the say the least, built like a solid beast, but with subtle hints of detail that are really hard not to notice. For example the smooth, solid feel makes it great to really grasp in your hand. An engraving of the sun motif embossed into the top of the mod, the brass center, and a Swarovski crystal placed beneath the serial number make the Nzonic V3 one of the most stylish mods out there.
The mod features a slanted top cap attached to a top tube, two center tubes (one for 18650, other for 18350 and 18500), a bottom tube, and the switch. This mod also has an adjustable top copper pin which allows any atomizer to sit flush to the top. There is also a copper contact in the bottom tube. The best way to set this mod up is with an 18350 battery as at this point it looks extremely catchy to the eye. The firing button is located at the bottom and uses magnets instead of springs, and has a deceptively light feel and short throw.
Since this mod is mechanical and doesn't benefit from boards and processors to adjust the voltage, the quality and conductivity of materials is everything it relies on. While not one of the best mods regarding battery retention, the Nzonic V3 performed rather well, with a rating of 93-94%. Of course, for a model with such a price tag you will expect a higher percentage but this might just be its only downside.
When drawing the line, it's one pretty impressive device to own and it will definitely get you noticed every time you take a vape in public. Vapor production is very good and the looks are phenomenal. If you're looking to stand out of the crowd and own a good quality mechanical mod that will last for ages, you will definitely do the right choice with the NZonic. Also it is the kind of mod that would look very good in a collection along other such breath-taking devices.
The main features of the NZonic V3 are: works with three types of batteries; two extension tubes; the pins are made of copper; the firing button is magnetic; comes with a locking ring; has 510 threading with a floating center pin;
RELATED REVIEWS: