The Provape Provari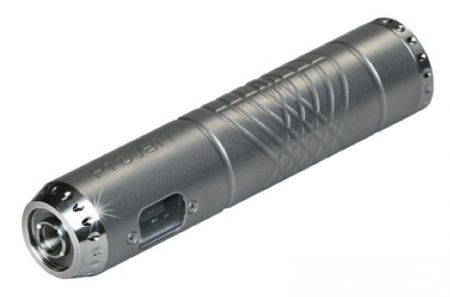 The ProVari is an advanced personal vaporizer with a built in microprocessor that is capable of variable voltage and a constant vapor output. It is a highly craved device and it's considered to be at the pinnacle of the electronic cigarette pile even by vapers that never used one. It has built a solid reputation and it has become one of the most iconic devices in the vaping community.
The ProVari is an e-cigarette geared towards the experienced esmoker, the one that knows the inner works of component and knows how to get the best vaping experience ever. A device ahead its time, the Provari paved the path for performance and exceptional build quality. It's the kind of device you can always rely on. Made only with USA components to avoid any compromise, it's the kind of brand that offers highly prized products to people who can afford the extra buck.
Taking it apart, the ProVari made of a tube (that features the popular 510 connection at the top) to accommodate the 18490 battery, a control panel to regulate the voltage, a generous and bright display and a button to operate it. What makes the ProVari stand out of the crowd is the amazing build quality and the reliability of this device. The unit is heavy and perfectly balanced. It is made of stainless steel and it feels very comfortable in the hand. The firing button has a firm and assured action and is made from back-lit translucent hard plastic.
With the ProVari ecig you can always create the perfect setting for your atomizer, cartomizer, or e-liquid tank. It keeps the same vaping volume regardless of your remaining battery power, and you can adjust the voltage from 2.9 – 6.0 volts in 0.1 volt increments. To adjust the voltage on the ProVari, simply press the button 5 times in a row. The digital display will turn on and you can flip through the voltage settings by pressing the button. Once you are done making changes, the ProVari will automatically save your settings and the display will turn off.
The built in circuit converts the voltage received from the battery to a higher voltage that you select, resulting in a more intense vaping experience. While a regular ecig generates about 7Watts of total power, the ProVari generates as high as 12Watts with a single-coil cartomizer and over 16 watts with a dual-coil cartomizer which is just mind blowing.
It's not an ecigarette designed for beginners or casual vapers but in terms of vapor production, throat hit, build quality, battery autonomy and overall experience it is without a doubt one of the best devices on the market and with a price range of over $250 it's a real privilege to enjoy such an amazing experience.
RELATED REVIEWS: