The Magnum Volt from Revolver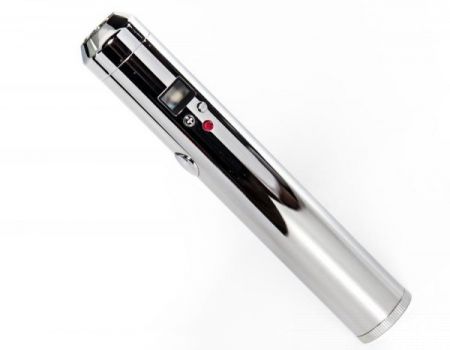 If you are a medium to advanced vaper looking for a little more than the standard cig-a-like starter kit, you definitely should to check out Revolver.It is an exclusive brand that is best suited for those with a little vaping experience and that understand the inner workings of these types of devices. It offers something a little more refined than the average e-cigarette with innovative technology and futuristic designs.
Today we are going to look at their most advanced product line, destined for the ultimate vaping experience – the Magnum. The device is true to the name, with a much larger size than the average ego ecig and a design coming out of sci-fi movies. Often referred to as the 'Ultimate Variable Voltage Device', the Magnum allows you to dial in a custom voltage, anywhere between 3.0v and 6.0v.
Just to be on the safe side, we recommend the 3.0 setting for starters. It produces plenty of vapor with a standard atomizer and the throat hit is definitely noticeable. If you are a hardcore vaper, then you can probably go to anywhere between 4.5v and 6.0v but this is a lot more than the average person is used to and would be totally overwhelmed. The devices fits a 'Talon' tank without the need for an adapter which makes it perfect if have your first starter kit also from Revolver.
Talking about tanks, the Magnum is just perfect for Revolver's XL Tank that holds up to 6ml of e-liquid, giving you a few days of constant vaping before the need of a refill. The Magnum Volt is also compatible with the majority of G2/510 atomizers, cartomizers, and clearomizers. For low resistance fans and for rebuildable enthusiasts you should know that the Magnum is compatible with 1.0-5.0 Ohm atomizers.
Vapor production is phenomenal with higher VG concentration e-liquids and even more amazing with a low resistance atomizer. Increasing the voltage also acts directly on the amount of vapor produced, but at the same time, it can change the flavor of some e-juices. By trying on different configurations, you will eventually end up with a setting you love and the Magnum will not disappoint you as your daily go-to device.
Some of the main features of the Magnum Volt are: Regulated output, which keeps the voltage the same with each puff – regardless of your remaining battery power. As the battery drains, the device will keep the voltage consistent; If the activation button is held down for 10 seconds or longer, the Magnum Volt will shut itself off until the button is released; Short Circuit/Atomizer Protection; Reverse Battery Protection – Protects against reverse battery installation; Battery Monitoring/Over-Discharge Protection – Device should monitor the battery voltage and automatically turn off when the battery is discharged; Amperage Limiting to 2.5 amps – The device should monitor and shut itself off if it detects any excessive over-current conditions; Vent hole on the bottom of the device for added safety;
RELATED REVIEWS: