Charlie's Chalk Dust e-liquids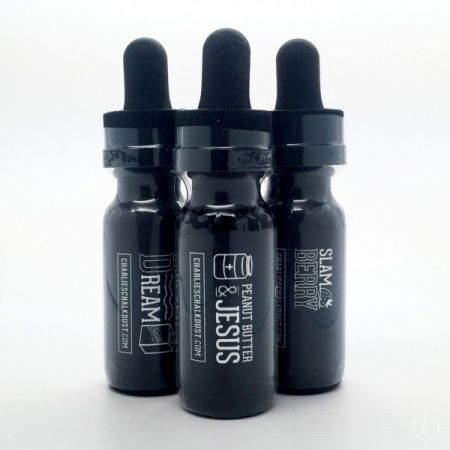 It doesn't happen very often for all of us to enjoy a particular brand's flavors so much, but with Charlie's Chalk Dust e-liquids apparently we made an exception. From the presentation, to the flavor and clouds these juices are amazing so we decided to do a small review on the whole line and give you our thoughts.
Charlie's Chalk Dust e-liquids consists of nine incredible flavors and they come packed in some pretty nifty bottles. Part of the line uses white bottles while the rest are all black. These bottles have a nice, almost ceramic-like finish to them and it really makes them stand out from the crowd. We got them in 30ml bottles, but you can find them also in 15ml and even 120ml with some sellers. The bottles are made from glass and are fitted with dropper caps and the labels are so nicely designed.
These e-liquids come in five different nicotine levels: 0, 1.5, 3, 6, and 12mg and depending on what flavor you lick the VG/PG ratio varies from 60/40 to a maximum of 80/20. The black or white matte coating helps protect the juice from UV radiation but at the same time it makes it a bit difficult to tell how much stuff is still left inside.
The flavors from Charlie's Chalk Dust e-liquids line fall mostly in the dessert category, with a single exception – Honey Badger – which is a sweet tobacco. Sweet but not in RY4 style kind of flavor, as the honey and cream help balance the distinct tobacco taste in the background. So, if you're looking for a special type of tobacco or you have a friend who just started vaping, then this is a great thing to go for as it was very popular even with the ladies at the office.
Next in line we have Wonder Worm, the only e-juice in this line with a 80/20 VG to PG ratio, which brought up so many childhood memories. It tastes exactly like a bag of gummy worms and the clouds it produces are incredible. We didn't notice any of the sweet tarts in the background but the flavor was more than delightful. Sweet, smooth and utterly delicious.
Charlie's Chalk Dust e-liquids do have a star of the show, and for us it was Slam Berry, one of the best natural strawberry flavors we've tested so far. It's no wonder this juice won the 'best in show' award at the Texas Vape Summit because it's the kind of flavor everyone loves. You get this juicy, sweet and natural strawberry mixed with a scoop of homemade vanilla ice cream and the end result is heaven for your taste buds. Everything mixes together perfectly for a creamy and at the same time refreshing vape.
Last but not least we have Peanut Butter & Jesus, a funny but delicious flavor that will instantly remind you of that authentic American peanut butter and grape jelly taste. The peanut butter is in the spotlight with a very natural and creamy feel and the jelly does give it a nice finish. It's not the kind of flavor you instantly fall in love with, but it can grow on you after a couple of puffs.
RELATED REVIEWS: