Melon Head Watermelon Wintergreen E-Liquid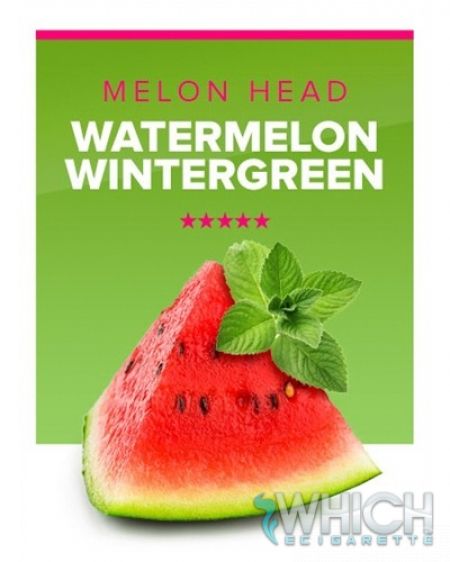 A flavor that will remind you of a refreshing stick of Jolly Rancher chewing gum, Melon Head Watermelon Wintergreen is a delicious fruity cocktail that's going to leave you dreaming about a summer on a deserted island. It packs a punch of fresh and delicious watermelon flavor with an extremely subtle hint of mango and above all tit's finished with a pinch – but not too much – of wintergreen. The light wintergreen flavor adds that little bit of extra kick to an overall flavorful and summery watermelon taste in your mouth.
All that fruitiness just pops up in your mouth with each puff you take and the mint embraces the whole cocktail for a smooth and relaxing finish. It is very refreshing and if you vape this at lower volts/watts you'll be rewarded with a slightly cooler cloud that's simply delicious.
It's the ideal e-juice for all those menthol smokers/vapers that want to spice up their lives and definitely a best-buy. All the aromas are vibrant in the background and once you take a puff you won't be able to stop until the battery is depleted. A great and interesting flavor overall that won't disappoint you, especially if you love a hint of peppermint with the dominant watermelon vibe.
The e-liquid is 100% USA made, sealed in glass bottles and accompanied by a precision dropper. It has a base of 70% Propylene Glycol and 30% Vegetable Glycerin and comes packed in 15ml or 30ml bottles. It also comes in four different nicotine strengths (0%, 0.08%, 1.8%, and 2.4%).
RELATED REVIEWS: