Liquid Nation E-juices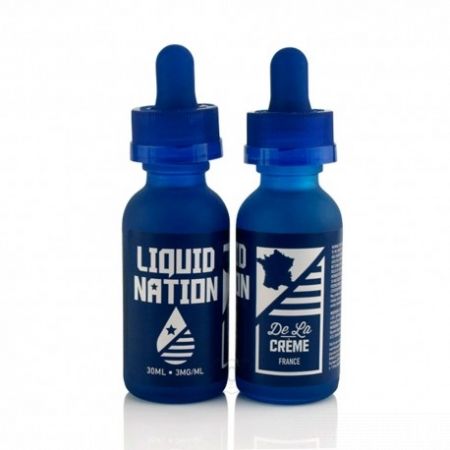 If you've tried some of Liquid State's flavors or just noticed their beautiful red bottles on the social media and made you curious, then we have some good news for you. The company has just launched a brand new line of products called Liquid Nation E-juices and these are inspired from different nations across the Globe like Italy, France or Canada.
Liquid Nation E-juices come packed in matte blue glass bottles fitted with blue dropper caps and the labeling design is very similar to that on Liquid State bottles, except for the red color. At the moment the line includes only three liquid, all of them from the sweet / dessert category and all of them inspired from recipes all over the world.
Liquid Nation E-juices are mainly intended for drippers as well as modern RTAs and RDTAs and they come in a blend of 80 VG / 20 PG and four different nicotine concentrations: 0, 3, 6, and 12mg. We've used our Tsunami RDA, Goon RDA and Griffin 25 RTA to test these flavors so here are our thoughts:
The first one on our list is Maple Glaze, a decadent and strange combination between donuts, caramelized maple syrup and a fresh strawberry on the exhale. It's something we wouldn't have thought to combine in the real world but it works so well, especially with those dark caramelized maple syrup tones that give this e-liquid such a strong character.
Next we have De la Crème, a creamy dessert inspired by the city of Paris that's designed to put a massive smile on your face. The mix is based around an almond cereal notes as well as vanilla custard notes with just the right amount of burnt sugar on the exhale. It's sweet, creamy e-liquid that's not overpowering and there all the ingredients are just perfectly balanced for a very smooth and delicious vape.
The last juice from the Liquid Nation lineup is Dolce Gelato, an Italian inspired ice cream that will take your taste buds all the way to Nirvana and back. This time we have a great fruity mix between lemon and strawberry with a very zesty lemon that's quite refreshing and a tangy – sweet strawberry to complement everything on the exhale. The base note is a silky ice-cream that binds the other two flavors together and it's clearly one of the best summery desserts we've tried so far.
If we are to pick a favorite it would be Dolce Gelato, just because of the creamy and tangy notes that complement each other so well, however the first to are not that far behind. A lovely line of premium USA made e-juices that are sure worth the $22 price tag.
RELATED REVIEWS: