VaporFi Grand Reserve Collection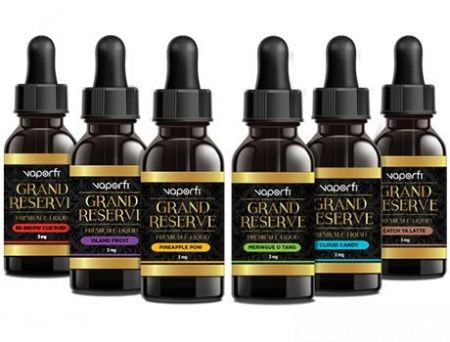 Get ready for the ultimate experience for your taste buds because today we are going to take a look at the VaporFi Grand Reserve Collection, a proprietary chef-inspired line of e-liquids, pre-steeped and packed in 30 ml glass bottles to deliver delicious clouds like no other.
The VaporFi Grand Reserve Collection consists of 6 products, each of them more complex than the other and with a clear orientation towards the sweet / dessert category. These juices come in six different levels of nicotine – from 0mg to Light Drip (1.5mg), Drippin' Level (3mg), Ultra Light (6mg), Light (12mg), and Regular (18mg). These are packed in dark glass bottles (to prevent the oxidation of the nicotine) and they come with dropper caps, like the majority of premium e-liquids out there.
The bottles come packed in cardboard boxes and the labels are simple yet very minimalistic. Each of the flavors has its own distinct color and it's usually in accordance with the dominating note. Our favorite was by far Rainbow Custard, closely followed by another masterpiece – Catch Ya Latte.
Rainbow Custard is a different take on regular vanilla custards, and this is something called 'Crème Anglaise' mixed with a delicious combination of fresh strawberries and tangerines. The strawberries have a superb natural flavor and it's like they are all coated in freshly squeezed sweet and tart tangerine juice and then mixed with that delicious light custard. The end result is something very similar to a top class dessert served in restaurant with a couple of Michelin stars. None of the ingredients are overpowering and the strawberries are clearly the stars of this show.
Catch Ya Latte on the other hand is the VaporFi Grand Reserve Collection flagship e-liquid and it managed to win an award for 'Best in Show Coffees' at the 2015 Vape Summit. It's probably the best coffee e-juice that we've tested so far and it's a lush, velvety latte with some toasted hazelnuts and topped with delicious caramel. The flavor is smooth and silky and it's what we call a comfort vape.
Last but not least, there's Pineapple Pow, an enchanting mix of ripe melons, pineapple and hibiscus that's going to leave you mesmerized. The flavors work so well with one another and both the freshness and sweetness of the fruit are magnified by the floral and mysterious taste of the hibiscus. This works great in the summer but it can be enjoyed all year round.
The other flavors from the super collection are Meringue O Tang (freshly baked donuts topped with zesty lemon custard), Island Frost (pineapple and coconut mixed with berries, lime and mint – something very similar to a Pina Colada) and Cloud Candy (a mix of mouthwatering gummy bears and cotton candy).
RELATED REVIEWS: