Mad Monkey Banana Nut Muffin E-liquid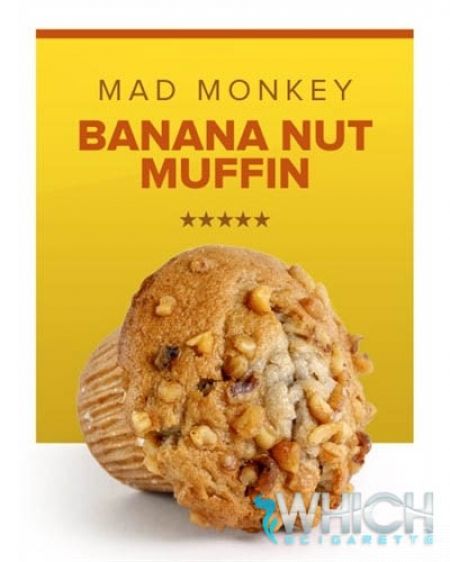 The perfect companion to a cup of freshly brewed coffee in the morning, this e-liquid is a true masterpiece for all those looking for the perfect dessert. Mad Monkey Banana Nut Muffin is an exceptional mixture of the adored banana muffins blended with cinnamon swirls and notes of blueberry pancakes.
It's a true mystery how the genius behind the recipe managed to come up with something that tastes so delicious that you can even feel that banana and nuts in your mouth as you puff. This e-liquid is one of our favorite sweet treats, and if you're into nutty cookie dough with a hint of banana this might hit the spot for you just perfectly.
None of the components overpowers the rest and you'll end up puffing for hours before even thinking about going for something a bit more 'mature' like tobacco or mint. It's perfect for those cozy nights around the fireplace, for those mornings when you have the time to enjoy your coffee and a perfect 'comfort vape' for when you're feeling sad or depressed. It will put a nice big smile on your face instantly.
The e-liquid is 100% USA made, sealed in glass bottles and accompanied by a precision dropper. It has a base of 70% Propylene Glycol and 30% Vegetable Glycerin and comes packed in 15ml or 30ml bottles. It also comes in four different nicotine strengths (0%, 0.08%, 1.8%, and 2.4%).
We recommend enjoying this e-liquid on low output mouth to lung atomizers like Kayfuns. 8mg is more than enough for a satisfying throat hit and the flavor is just incredible.
RELATED REVIEWS: