Razzmatazz Raspberry Limeade E-Liquid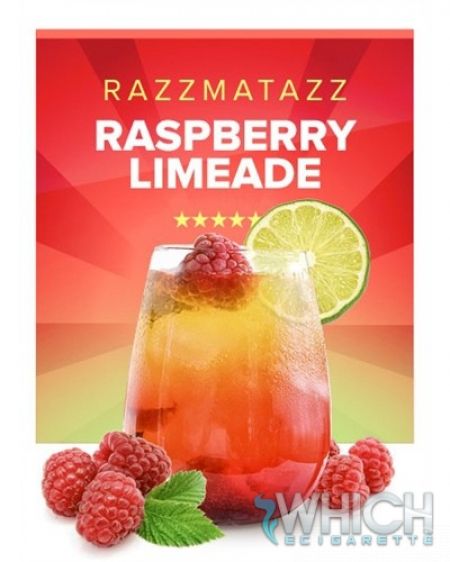 By far one of our favorite e-liquids on the market today, Razzmatazz Raspberry Limeade is the perfect sweet and sour cocktail to take your taste buds all the way to Nirvana and back. The incredible amount of positive reviews say it all; this is one e-juice that you won't forget to soon. It doesn't matter if you like fruity e-liquids or not, the brewers that crafted this cocktail created a real masterpiece.
You will taste the sweet raspberry each time you inhale and get spoiled by the zingy limeade once you exhale. Some people, like Kevin, believe it's the other way around but honestly who cares; it's the perfect combination of flavors that's going to make you puff on your e-cigarettes for hours and hours. Hell, this is so 'addictive' that we have at least two bottles lying around the office regardless of season. None of the two main components are overpowering and the juice burns at lower voltage, giving a smooth, cool, and refreshingly perfect vape. You can even mix it with other flavors for more great results.
This could be your sweet guilty pleasure all year round and believe us, nobody who tried it ever complained. It's the perfect juice for all ages and vaping categories from beginners to veterans.
The e-liquid is 100% USA made, sealed in glass bottles and accompanied by a precision dropper. It has a base of 70% Propylene Glycol and 30% Vegetable Glycerin and comes packed in 15ml or 30ml bottles. It also comes in four different nicotine strengths (0%, 0.08%, 1.8%, and 2.4%).
RELATED REVIEWS: